Washington DC Piano Lessons In The Comfort Of Your Home
No fighting traffic, we come to you!
Lessons offered 9am-9pm, 7 days a week
Experienced, knowledgeable, passionate teachers
Lessons for all ages and skill levels
30-60 minutes sessions
Your availability is our priority
Free recitals
You know it's time to get the children started with in-home private music lessons. Maybe the lessons are for you, how about the whole family? You're smart enough to know that music lessons are important but what about finding a teacher? Do you call a music store? Will their teacher be right for you? Then there's the getting there; the traffic, hauling the kids back and forth, what about dinner? Yeah – Right! Like that's going to happen. You don't need lessons with just any ol' teacher, especially a task master, intimidating, practice demanding monster that bores students. What you're looking for is an engaged, fun, well-educated, motivational, big smiling and super excited personality that loves teaching Music. A teacher who makes lessons fun. You already know what you need. You need Lessons in Your Home-the music teachers who come to your home or school to teach fun, private music lessons. Their teachers constantly think of great ways to motivate every student. They turn students into dazzling musicians ready to break out a song and share their talents with the world. Now you're saying "Hey, this could work" Lessons in your Home teaches piano, guitar, voice, violin, in fact they teach every music instrument you could think of. Getting started is as easy as 1,2,3.

Give Lessons in your home a call or email
They'll ask important questions about each student ensuring a teacher that's best for you
Schedule and start your lessons. What are you waiting for? Start Lessons now with Lessons in Your Home!
Get Private Piano Lessons Across The Nation With Our World-Class Piano Teachers
Lessons In Your Home is honored to host some of the most dependable and neighborly pianists in DC! Our piano teachers come from various musical backgrounds, but they are united in their seasoned professionalism. Many of them graduated with honors for their exceptional musicality and dedication to their instrument. While other music schools might also have degree-holding teachers, adaptability is what separates Lessons In Your Home piano teachers from the rest. Our pianists have played it all! All of the teachers at Lessons In Your Home have successfully completed a meticulous interview process that guarantees their instrument proficiency as well as their people skills.
Lessons In Your Home is a tight-knit family of world-class piano teachers. We are passionate about teaching piano lessons and to make learning the piano fun. Our key to success is ensuring the best student/teacher relationship. Whether you are looking for virtual piano lessons or piano lessons near me, our piano teachers are the best in the business.
When you call Lessons In Your Home…

After answering any questions you might have, we'll pair you with a local teacher that best matches your age, schedule, skill level, and goals.

… and then we'll schedule your first month of lessons!
First Lesson Guarantee — If you don't LOVE your first lesson we can pair you with a teacher that better fits your situation. Or you can even cancel and pay us nothing.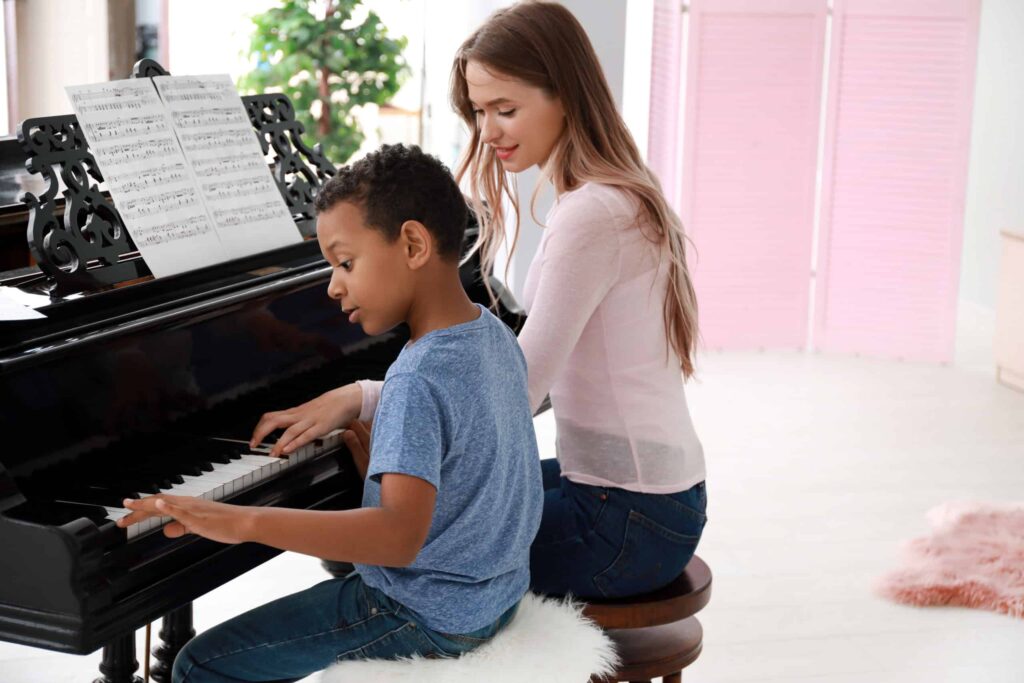 What Families Say About Us
Here's How We Approach Piano Lessons in Washington, DC
From Arlington and Bethesda to Fairfax and Rockville, Lessons In Your Home provides in-home piano lessons for children and adults of all ages. Enjoy the convenience of private piano lessons in your home with a highly skilled and knowledgeable piano teacher. Learn to play the piano without having to fight traffic by letting us meet you at your convenience! Lessons In Your Home offers private piano lessons for all ages and skill levels with both 30- and 60-minute session options for what suits you best. Our piano teachers offer both in-person and virtual learning options for piano and a wide variety of other instruments
Topics You'll Learn in Our Washington, DC, Piano Classes
Piano lessons at home will build upon each other as your student makes their way from being a new beginner to a talented pianist. Piano lessons will include learning about the instrument, how to read music, how to use your fingers and the pedals, and identifying the keys on the piano and their corresponding notes. As you learn to read music and play with both hands, you will also learn about melody, rhythm, and short piano pieces. Our neighborhood DC piano lesson teachers give you a chance to work closely with someone who's fun, knowledgeable, and patient so you can learn proper piano techniques
The Advantages of Having Washington, DC, Piano Lessons in Your Home
Private piano lessons in the Washington, DC area allows you or your child to enjoy the undivided attention of a professional and skilled teacher. Our teachers at Lessons In Your Home have flexible schedules and offer personalized piano lessons to support each student along their musical journey. Students will get immediate, real time feedback with private piano lessons as they learn to grow as musicians. Working with a private piano lessons instructor will allow you to improve both your musical skills as well as your confidence in playing the piano.
Frequently Asked Questions About Washington, DC, Piano Lessons
Lessons In Your Home provides private piano lessons in Arlington, Bethesda, Fairfax, Falls Church, McLean, Northwest DC, Potomac, Reston, Rockville, and Springfield.
Lessons In Your Home offers a trial lesson before signing up where you can meet the teacher at your home before you decide if you want to continue.
Lessons In Your Home offers two options for private lesson length: 30 minutes and 60 minutes.
All our students with Lessons In Your Home are encouraged to play in a recital. These family-friendly settings allow you or your child to feel comfortable in sharing their musical achievements with their friends and loved ones.
Lessons In Your Home offers both in-home and online lessons for Washington, DC, residents. We also offer classes and programs in your school and after-school programs.
Learning piano is for all ages, from kids to seniors alike! But when taking piano lessons, it is best to start at an age where children have adequately sized hands (can occupy at least 5 keys), sufficient motor skills to move their fingers independently, and an interest to learn. For some, the best age might be around 5 to 6, but others can start as early as 3, especially if they already know the first 7 letters of the alphabet!
Every great musician started with no musical ability, so no background is needed! Enrolling in piano lessons without prior musical knowledge is perfectly fine. We'll not only help get you started on the right foot, but more importantly, we'll also help encourage and sustain your child's desire to keep learning.
Yes and no! While an acoustic piano is best for practice, it is not a requirement. However, you need to have some kind of practice instrument. For beginners, a weighted electronic keyboard can suffice.
A few things to consider when buying a piano include the cost, your home's space, and how serious you are about taking piano lessons. Acoustic pianos tend to be more expensive and bigger, while digital keyboards are more light and compact and cost considerably less than acoustic pianos.

For the beginning stages, you may opt for a good-quality keyboard. See our recommended digital keyboards. Once you progress in your lessons, learning on an acoustic piano is recommended.
Being able to play the piano considerably well depends on how much you practice. To progress quickly, you should be able to practice every day for at least 15 minutes. See our tips for being a better pianist.

If you aim to play songs comfortably, you may get to a good level in 2 to 3 years. If being a concert pianist is your goal, it can take more hours, even decades, of work. What's important is having the motivation to refine your skills!
Absolutely! We understand that children might be hesitant to go to piano lessons for the first few weeks, and we allow parents to sit in to observe and encourage them as they practice.
It is important to practice every day! The practice duration for each student varies depending on their age and level. But as a good rule of thumb, every piano student should practice every day for at least 15 minutes. For beginners, it could take as much as 15 to 20 minutes a day, while more advanced students take 45 minutes to an hour.
Our Washington, DC Music Lessons Near You