Drum Lessons In The Comfort Of Your Home
No fighting traffic, we come to you!
Lessons offered 9am-9pm, 7 days a week
Experienced, knowledgeable, passionate teachers
Lessons for all ages and skill levels
30-60 minutes sessions
Your availability is our priority
Free recitals
You know it's time to get the children started with in-home private music lessons. Maybe the lessons are for you, how about the whole family? You're smart enough to know that music lessons are important but what about finding a teacher? Do you call a music store? Will their teacher be right for you? Then there's the getting there; the traffic, hauling the kids back and forth, what about dinner? Yeah – Right! Like that's going to happen. You don't need lessons with just any ol' teacher, especially a task master, intimidating, practice demanding monster that bores students. What you're looking for is an engaged, fun, well-educated, motivational, big smiling and super excited personality that loves teaching Music. A teacher who makes lessons fun. You already know what you need. You need Lessons in Your Home-the music teachers who come to your home or school to teach fun, private music lessons. Their teachers constantly think of great ways to motivate every student. They turn students into dazzling musicians ready to break out a song and share their talents with the world. Now you're saying "Hey, this could work" Lessons in your Home teaches piano, guitar, voice, violin, in fact they teach every music instrument you could think of. Getting started is as easy as 1,2,3.

Give Lessons in your home a call or email
They'll ask important questions about each student ensuring a teacher that's best for you
Schedule and start your lessons. What are you waiting for? Start Lessons now with Lessons in Your Home!
Get Private Drum Lessons Across the Nation With Our Drum Instructors
When you call Lessons In Your Home…

After answering any questions you might have, we'll pair you with a local teacher that best matches your age, schedule, skill level, and goals.

… and then we'll schedule your first month of lessons!
First Lesson Guarantee — If you don't LOVE your first lesson we can pair you with a teacher that better fits your situation. Or you can even cancel and pay us nothing.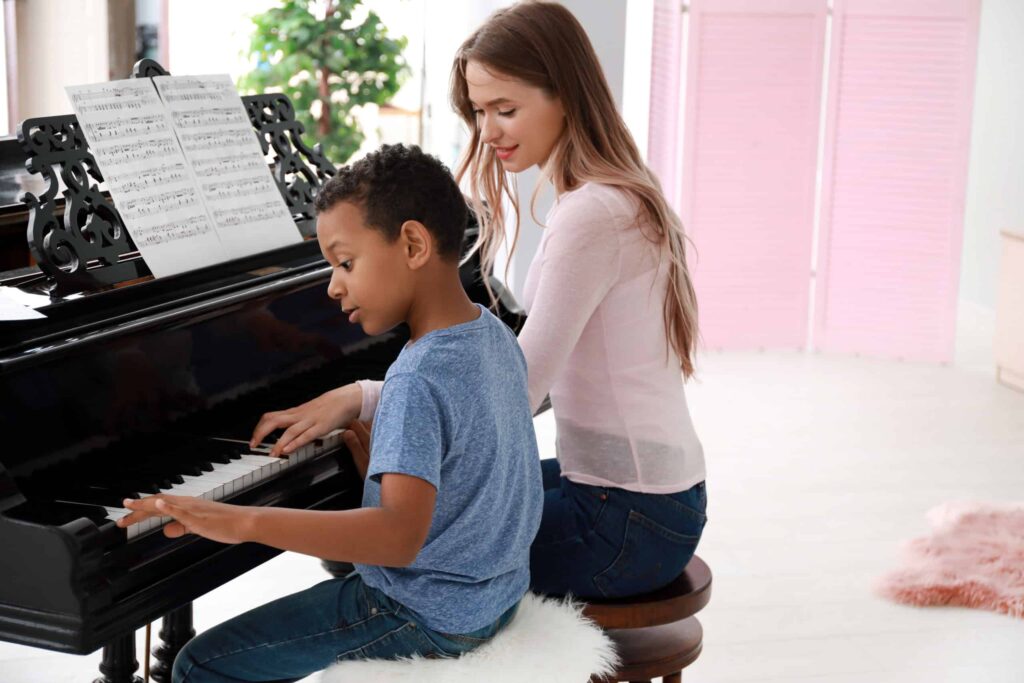 What Families Say About Us
Drum Lesson FAQs
It's never too early to indulge your child's interest in playing the drums. You can foster your child's interest in drums and musicality early on by showing them music, tapping out beats, and having them play with toy drum sets. A great age for learning and retaining skills from drum lessons is around seven and nine years old, but they can start as early as five so the fundamentals can be learned. During these certain ages, a child has greater control over their physical strength and coordination. Learning the drums requires controlled arm movements and learning how to use your arms and legs independently of one another.

Older children and teens typically enjoy learning new skills and activities, though this is also an age where they may lose interest quickly. Drum lessons with a person who cares helps counteract that loss of interest by making the learning process fun and engaging. You're also never too old to learn how to play the drums and enjoy learning a new hobby. Adults interested in drum lessons will fully appreciate the time and dedication needed to learn a new skill.
Learning how to play the drums or any musical instrument can be a lifelong skill you continue to develop and perfect. That said, within your first 6 months with Lessons In Your Home, you can expect to start playing some songs and have a decent grasp of music theory and using proper technique. One year and three years are other milestones which will setup how you choose to pursue the art of drumming, and our instructors can help your child through these decisions.
When you are just starting out, you might want to rent your drum instead of buying one. Beginner drummers will want to weigh the financial responsibility of purchasing and maintaining a drum kit. Drum kits are not exactly cheap, so you want to make sure you are invested in learning this new skill before diving in too deep financially. However, once you become more invested in your drum lessons, you may find that owning your own drum kit pays off in the long run. Skilled drummers will definitely appreciate owning their own drum kit, especially when they get comfortable with the size and type of drums they prefer. Many drum kit rental services will provide beginners and advanced drummers alike with high-quality drum kits. You can also look into rent-to-own options where the drum kit automatically becomes yours after a preset lease term. You can also learn a lot about what type of drum kit you do or don't want to purchase when you rent a set for a short period of time with fewer financial obligations.

Also, electronic drum kits are a great alternative and may or may not be cheaper than a standard kit. If you're able to put in some time and effort, you might be able to snag a drum kit for a great price off Facebook marketplace or Craigslist.
When you just start out learning how to play the drums, it's really about daily consistency versus cramming in an hour or two once a week. That said, you may want to work yourself up to practicing about 30 minutes a day. Your hands, wrists, and arms may become more fatigued faster when you first start learning how to play. As you build up strength and coordination, you will find that it becomes easier to run through your drum exercises for longer periods of time.

The more you practice drum basics, the more confident you will feel when moving on to more advanced skills and challenges. An advanced drummer should plan to practice for at least an hour each day. Plan to move through your drum basics, even once you have mastered them, to ensure you maintain a solid foundation of skills. These basics will help inform your skill and technique as you practice more challenging skills. A combination of drum lessons and playing on a practice pad can help set you up for success as a drummer.
You don't need to know how to read music to play the drums, but you might find it helpful! Many famous drummers don't know how to read music but are still incredibly adept and successful. Some drummers learn how to play by listening and feeling the beats and rhythms. Other drummers may find that learning how to read music helps them better communicate with bandmates and other musicians. The music you want to play and the goals you have will impact the decision of whether or not you'll need to learn to read music.

While it is possible to become a drummer without knowing how to read music, it can take more time and practice to do so. A combination of playing by ear and learning to read music can set you up for success, whether you plan to learn the drums for fun or hope to apply it in a professional way. Learning how to read music may also open more doors for you if you want to play professionally because some gigs may require you to read sheet music.
With so many options out there for a drum set, how do you know which to choose? As a beginner, you might quickly burn through your drum pad and want to level up to the full drum set. You can find beginner drum sets that come with everything you need to get started: a snare drum, bass drum, cymbals, toms, and hardware. The key to remember is to focus on the quality of the drum set or drum pad. It can be frustrating to learn on mediocre-quality instruments. If you have to sacrifice quality, focus first on getting a really great drum pad to learn on.

If you're ready to invest more time and energy into learning how to drum, then you may want to invest in a drum set you will be excited to play. If you are looking for a beginner drum set for your kid, you may want to look into junior-size options so your child can sit comfortably and reach all parts of the kit. Your drum teacher, after discussing your goals, can always lead you in the right direction.
Learning how to play the drums can certainly become a loud endeavor. If your child or loved one is learning how to play the drums, then you might be wondering if there are ways to make drums a bit quieter. When soundproofing or acoustic panels don't do enough to absorb the sounds, you might try an electronic drum kit to avoid upsetting family members, housemates, and neighbors. Playing an electronic drum kit can feel a lot like working on a regular kit but without all the noise.

Check out low-volume options for cymbals, like rubber cymbals or ones with little holes that help reduce the overall sound. Add mesh drum heads to your drum set to help reduce the volume, or consider changing out your sticks for brushes or hotrods. You can also muffle or dampen your bass drum with something to help soak up the sound. And, of course, check out rubber practice pads that dampen the sound and offer a portable way to practice when you're away from your drum kit.
All Popular Instrument Lessons:
We have experienced local teachers for any instrument you can think of