Music Lessons In The Comfort Of Your Home
No fighting traffic, we come to you!
Lessons offered 9am-9pm, 7 days a week
Experienced, knowledgeable, passionate teachers
Lessons for all ages and skill levels
30-60 minutes sessions
Your availability is our priority
Free recitals
You know it's time to get the children started with in-home private music lessons. Maybe the lessons are for you, how about the whole family? You're smart enough to know that music lessons are important but what about finding a teacher? Do you call a music store? Will their teacher be right for you? Then there's the getting there; the traffic, hauling the kids back and forth, what about dinner? Yeah – Right! Like that's going to happen. You don't need lessons with just any ol' teacher, especially a task master, intimidating, practice demanding monster that bores students. What you're looking for is an engaged, fun, well-educated, motivational, big smiling and super excited personality that loves teaching Music. A teacher who makes lessons fun. You already know what you need. You need Lessons in Your Home-the music teachers who come to your home or school to teach fun, private music lessons. Their teachers constantly think of great ways to motivate every student. They turn students into dazzling musicians ready to break out a song and share their talents with the world. Now you're saying "Hey, this could work" Lessons in your Home teaches piano, guitar, voice, violin, in fact they teach every music instrument you could think of. Getting started is as easy as 1,2,3.

Give Lessons in your home a call or email
They'll ask important questions about each student ensuring a teacher that's best for you
Schedule and start your lessons. What are you waiting for? Start Lessons now with Lessons in Your Home!
Big Offerings, Small Feel – Dallas Music Lessons for Kids
They say that everything is bigger in Texas, and At Lessons In Your Home Dallas, we are big enough to offer lessons for many instruments including piano, violin, drums, guitar, and voice. That said, we're also small enough to treat our students and teachers like family! We are so excited your family is interested in music lessons and we'd love to help you on this journey. Our teachers come to your home so you don't have to commute or work around a busy schedule. Our lessons are personalized and offer one-on-one instruction by professional musicians who are encouraging and enthusiastic! Choose an icon below to learn more and then fill out the contact form or give us a call. One of our friendly directors will contact you to answer any questions you may have, get you started with in-home music lessons and welcome you into our Lessons In Your Home Dallas family.
Get Private Music Lessons Across Dallas With Our World-Class Teachers
We offer lessons for a variety of instruments, and we staff some of the best musicians in Dallas. The best part? Our teachers are incredible with kids or beginners and they'll make lessons fun, engaging, and most of all – a joy to learn. Check out our teachers below!
When you call Lessons In Your Home…

After answering any questions you might have, we'll pair you with a local teacher that best matches your age, schedule, skill level, and goals.

… and then we'll schedule your first month of lessons!
First Lesson Guarantee — If you don't LOVE your first lesson we can pair you with a teacher that better fits your situation. Or you can even cancel and pay us nothing.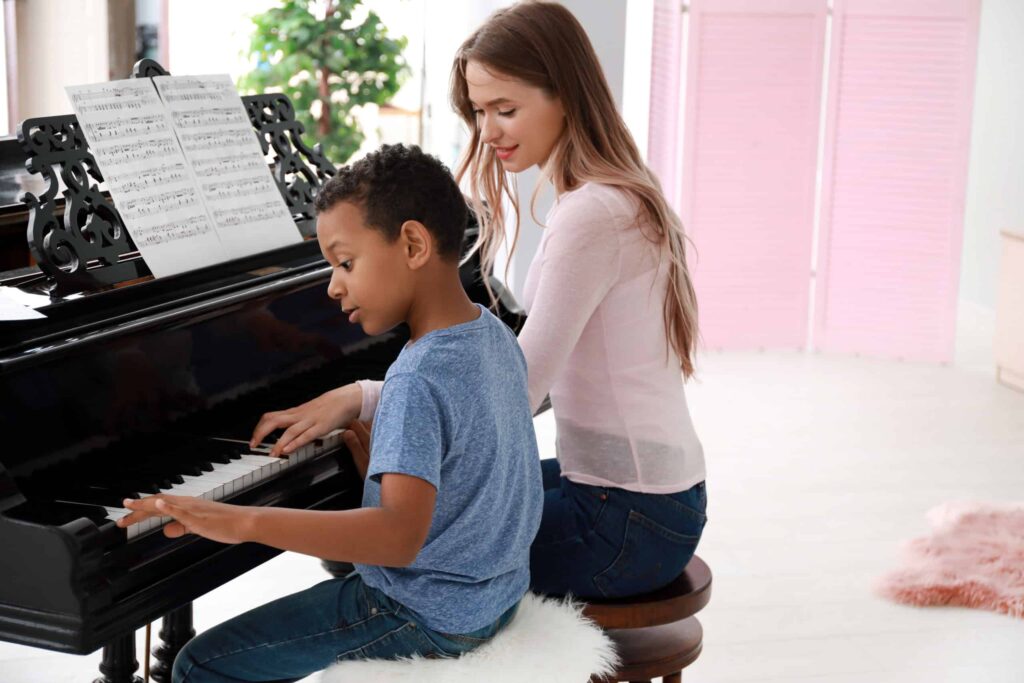 What Families Say About Us
Serving Families With The Best Music Lessons in Dallas
Whether your student is learning to play piano, guitar, or drums for the first time or they're wanting to improve on their skill set, our music teachers in Dallas can help your family grow as musicians. Private music lessons are a great option for beginners who will get personalized attention and support with learning proper technique and all the musical essentials. Your Dallas music teacher will help you start with the basics, like learning notes, scales, and chords, before moving on to more advanced pieces and building your repertoire. Intermediate and advanced-level players can also benefit from the vast knowledge and skills that your Dallas music teacher will bring to the table. Through Lessons In Your Home, your child can become an even more confident player and performer with private music lessons. A good teacher will provide a healthy balance of encouragement, support, and feedback to help you grow as a pianist.
What To Expect When Joining Our Dallas Music Lessons
You can reach out to us about what instrument your student is looking to learn, and we'll match them with a local instructor. We'll figure out what works best for your family's schedule, and we'll set up the first lesson. From there, your child will receive personalized attention and quality instruction in your own home. Depending on the student's goals, there will be rapid growth in skill and there may be opportunities for recitals or performances! Our Dallas music teachers want to help you reach your goals and expand your musical repertoire one lesson at a time.
Why is Lessons In Your Home the Best Choice for Dallas Music Lessons?
At Lessons In Your Home, our teachers come to you, offer personalized instruction, and approach teaching with the student first to provide fun and encouraging lessons that'll stick with them for life. Your kid will also get the opportunity to work with a world-class Dallas music teacher that provides personalized teaching. While some younger students can experience burnout or fatigue, our process is designed to be fun, engaging, and encourage students to stick with practice. Start lessons now with a Dallas teacher near you, and get started progressing as a musician!
Frequently Asked Questions About Dallas Music Lessons
We offer a variety of music lessons including piano, guitar, violin, voice, drums, and many other instruments.
We provide music lessons for all ages, from children to adults. Our teachers are experienced in teaching different age groups and skill levels.
Yes, absolutely! Our teachers are experienced in working with students of all ages and skill levels, including children and beginners. We understand the importance of nurturing a love for music from an early age, and our instructors use fun, engaging teaching methods to do just that.
You can sign up for our music lessons by contacting us online or calling 940-600-9171. We'll discuss your student's goals and match your family with a suitable teacher.
No, students are generally expected to have their own instruments for practice and during lessons. However, we can provide guidance on where and how to buy or rent instruments
Of course. It's important for us that your child enjoys their music lessons, and sometimes it might take trying out a few different instruments to find the right fit. If your child wants to switch instruments, simply let us know and we will arrange lessons with a teacher for the new instrument of choice.
All our music teachers are highly qualified with a degree in music or extensive performance experience. They also undergo our thorough vetting process to ensure they are capable and reliable educators.
Each lesson typically lasts for about 30 minutes to an hour, but can be adjusted based on the student's needs and skill level.
Lessons are usually once a week, but the frequency can be adjusted according to the student's goals and availability.
The cost varies based on the type of instrument, lesson length, and teacher's qualifications. Please contact us for more specific information.
Our Dallas Music Lessons Near You
All Popular Instrument Lessons:
We have experienced local teachers for any instrument you can think of