Miami Piano Lessons In The Comfort Of Your Home
No fighting traffic, we come to you!
Lessons offered 9am-9pm, 7 days a week
Experienced, knowledgeable, passionate teachers
Lessons for all ages and skill levels
30-60 minutes sessions
Your availability is our priority
Free recitals
You know it's time to get the children started with in-home private music lessons. Maybe the lessons are for you, how about the whole family? You're smart enough to know that music lessons are important but what about finding a teacher? Do you call a music store? Will their teacher be right for you? Then there's the getting there; the traffic, hauling the kids back and forth, what about dinner? Yeah – Right! Like that's going to happen. You don't need lessons with just any ol' teacher, especially a task master, intimidating, practice demanding monster that bores students. What you're looking for is an engaged, fun, well-educated, motivational, big smiling and super excited personality that loves teaching Music. A teacher who makes lessons fun. You already know what you need. You need Lessons in Your Home-the music teachers who come to your home or school to teach fun, private music lessons. Their teachers constantly think of great ways to motivate every student. They turn students into dazzling musicians ready to break out a song and share their talents with the world. Now you're saying "Hey, this could work" Lessons in your Home teaches piano, guitar, voice, violin, in fact they teach every music instrument you could think of. Getting started is as easy as 1,2,3.

Give Lessons in your home a call or email
They'll ask important questions about each student ensuring a teacher that's best for you
Schedule and start your lessons. What are you waiting for? Start Lessons now with Lessons in Your Home!
Get your family started with piano lessons in the comfort of home, and experience the benefits of personalized attention and support! One of the biggest benefits of taking piano lessons in your home is the convenience factor. Lessons In Your Home will pair you with a Miami piano teacher who can help you fit lessons into your busy schedule. Our Miami piano teachers come to you, and you can schedule lessons at a time that is most convenient for your kids. Private piano lessons allow for personalized instruction that is tailored to their specific skill level and needs. From beginners to advanced pianists, private piano lessons in Miami can help children grow and develop as musicians in their own environment. At Lessons In Your Home, we partner you with Miami piano teachers who will provide encouragement and guidance as they learn the piano.
Get Private Piano Lessons In South Florida With Our World-Class Piano Teachers
Lessons in Your Home piano faculty consists of a caring team of professional musicians! They hold degrees from some of the top conservatories in the world, such as Berklee and the New England Conservatory of Music, and are prize-winning concert pianists. Whether your child is just starting out or has some sexperience, we have a piano teacher for them. We give piano lessons in an array of styles, including classical, jazz, improvisation, and pop/rock methodology and we work with you and your child to figure out what success looks like. Lessons In Your Home ensures all Miami piano teachers are thoroughly vetted and can provide you with a customized learning experience.
When you call Lessons In Your Home…

After answering any questions you might have, we'll pair you with a local teacher that best matches your age, schedule, skill level, and goals.

… and then we'll schedule your first month of lessons!
First Lesson Guarantee — If you don't LOVE your first lesson we can pair you with a teacher that better fits your situation. Or you can even cancel and pay us nothing.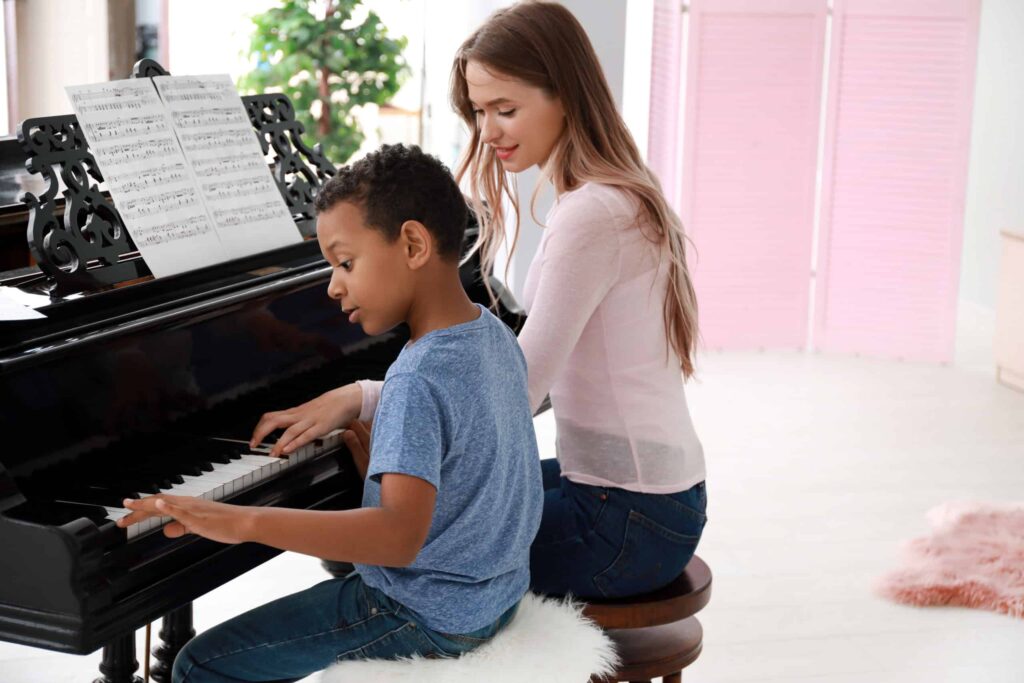 What Families Say About Us
What To Expect When Joining Our Miami Piano Lessons
At Lessons In Your Home, we offer Miami piano lessons with world-class teachers who will come right to your home. Our Miami piano teachers help your student set achievable practice goals and offer guidance on how to master techniques, difficult songs, maintaining proper postures, and more. Our Miami piano teachers will offer encouraging and engaging instruction so your child can grow and explore their interests in progressing as a musician.
What Makes Lessons In Your Home the Best Choice for Miami Piano Lessons?
Lessons In Your Home puts your family first and makes the learning process incredibly fun, easy, and encouraging. Your family can start lessons now by filling out our online form and telling us a bit about yourself. We want to connect you with the best teacher for private piano lessons in South Florida. Get started today with Miami piano lessons in your home.
Frequently Asked Questions About Miami Piano Lessons
That's us! Lessons In Your Home is a professional music education service that brings experienced piano teachers directly to your home in Miami for convenient and personalized lessons.
Our piano teachers in Miami are highly qualified professionals with extensive experience and formal training in music. They have undergone thorough background checks and we train them in the Lessons In Your Home process to ensure a successful experience.
We offer piano lessons for students of all ages, from young children to adults. Our teachers are skilled at adapting their teaching methods to suit the unique needs and learning styles of each student. Our passion, though, is helping and teaching the next generation of musicians!
Not at all! Our piano lessons are designed to cater to beginners as well as intermediate and advanced students. Our teachers will tailor the lessons according to your current skill level and goals.
While having a piano or keyboard at home is ideal, it is not initially required. Our piano teachers can recommend suitable instruments for practice and help you find affordable options if needed. However, regular access to a piano is crucial for progress and practice outside of lessons.
Absolutely! We understand that children might be hesitant to go to piano lessons for the first few weeks, and we allow parents to sit in to observe and encourage them as they practice.
To get started, simply reach out to us via phone or online, and our friendly team will assist you in finding the right piano teacher for your location and scheduling preferences. We'll guide you through the enrollment process and answer any additional questions you may have.
All Popular Instrument Lessons:
We have experienced local teachers for any instrument you can think of
Our Music Lessons Near You