Miami Guitar Lessons In The Comfort Of Your Home
No fighting traffic, we come to you!
Lessons offered 9am-9pm, 7 days a week
Experienced, knowledgeable, passionate teachers
Lessons for all ages and skill levels
30-60 minutes sessions
Your availability is our priority
Free recitals
You know it's time to get the children started with in-home private music lessons. Maybe the lessons are for you, how about the whole family? You're smart enough to know that music lessons are important but what about finding a teacher? Do you call a music store? Will their teacher be right for you? Then there's the getting there; the traffic, hauling the kids back and forth, what about dinner? Yeah – Right! Like that's going to happen. You don't need lessons with just any ol' teacher, especially a task master, intimidating, practice demanding monster that bores students. What you're looking for is an engaged, fun, well-educated, motivational, big smiling and super excited personality that loves teaching Music. A teacher who makes lessons fun. You already know what you need. You need Lessons in Your Home-the music teachers who come to your home or school to teach fun, private music lessons. Their teachers constantly think of great ways to motivate every student. They turn students into dazzling musicians ready to break out a song and share their talents with the world. Now you're saying "Hey, this could work" Lessons in your Home teaches piano, guitar, voice, violin, in fact they teach every music instrument you could think of. Getting started is as easy as 1,2,3.

Give Lessons in your home a call or email
They'll ask important questions about each student ensuring a teacher that's best for you
Schedule and start your lessons. What are you waiting for? Start Lessons now with Lessons in Your Home!
Take the first step in nurturing your child's musical potential today! As parents, nurturing your child's creativity and fostering a lifelong love for learning stands paramount, and music education stands as a stellar pathway to achieving this. Welcome to Lessons In Your Home, where we turn your living room into a vibrant hub of learning and creativity. Our expertly crafted guitar lessons are designed with your child's comfort and growth at the forefront, tailoring a learning path that resonates with their pace and preference. Whether you're looking for in-home lessons or virtual instruction, we've got you covered.
Get Private Guitar Lessons Across Miami with Our World-Class Guitar Teachers
At Lessons In Your Home, we take pride in offering top-tier guitar education delivered by experienced instructors. Our teachers not only possess impressive musical skills but also have a passion for nurturing young talents. Your child will receive personalized guidance and attention, helping them develop strong foundational skills and a deep appreciation for music. Whether your child dreams of playing acoustic melodies or rocking out on an electric guitar, our teachers are well-equipped to cater to their musical preferences.
When you call Lessons In Your Home…

After answering any questions you might have, we'll pair you with a local teacher that best matches your age, schedule, skill level, and goals.

… and then we'll schedule your first month of lessons!
First Lesson Guarantee — If you don't LOVE your first lesson we can pair you with a teacher that better fits your situation. Or you can even cancel and pay us nothing.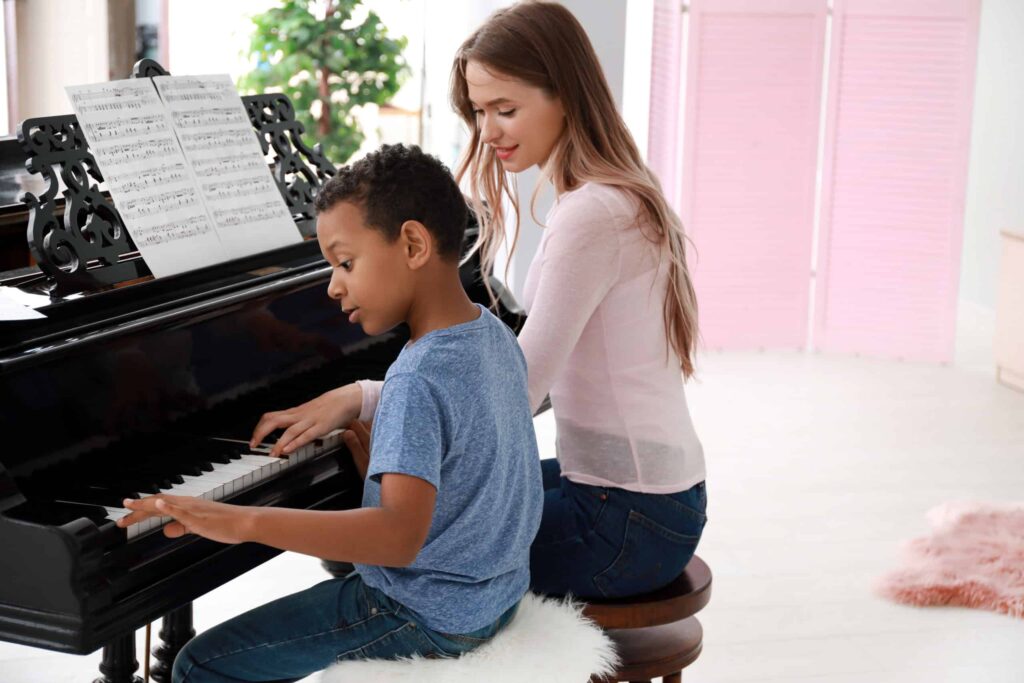 What Families Say About Us
Ready To Learn the Guitar? We Love Helping Your Kids Learn!
At "Lessons In Your Home," we specialize in nurturing young talents. Be it a child taking their first step into the world of music or a teenager ready to fine-tune their skills; we are here to guide them every step of the way. Our lessons are specially crafted to suit different age groups and skill levels, ensuring an engaging, effective, and fun learning process. With experienced teachers who excel in adapting to each child's unique learning curve, we prioritize creating a joy-filled and enriching environment for our young learners to flourish in their musical journey. Let's help your child strike the right chord in their guitar learning adventure!
What To Expect When Joining Our Miami Guitar Lessons
Enrolling your child in our guitar lessons means providing them with a well-rounded musical education. Our teachers will guide them through fundamental techniques, music theory, and their favorite songs. As your child gains confidence, they'll have the chance to explore different genres and even begin composing their own music – all while building a strong foundation in playing the guitar.
What Makes Lessons In Your Home the Best Choice for Miami Guitar Lessons?
Selecting the right place for your child's musical education is an important decision. At Lessons In Your Home, our commitment to excellence sets us apart. With our skilled instructors, personalized approach, and convenient in-home or virtual lessons, we ensure that your child's journey to learning the guitar is both enriching and enjoyable.
Frequently Asked Questions about Miami Guitar Lessons
Absolutely, we extend our guitar lessons to various neighboring cities, including Coral Gables, Kendall, and Miami Beach. Feel free to inquire about availability in your area.
The cost of lessons varies based on factors like location and duration. Contact us to receive specific pricing details.
We collaborate with certain schools to provide guitar lessons. Learn more about our Music In Your School program.
We offer flexible scheduling options to accommodate your child's routine. Our teachers will work with you to find a suitable lesson time.
Booking the first guitar lesson is simple. Get in touch with us by phone or email, and our team will guide you through the process.
While participation in recitals is optional, we encourage it as a valuable opportunity for students to showcase their progress and performance skills.
While private lessons are our focus, we also collaborate with local schools for larger classes.

Embark on an exciting journey with your child as they discover the world of guitar music through Lessons In Your Home. Whether in your cozy living room or through virtual lessons, our experienced instructors will nurture your child's musical talent with care and expertise. Join our community of passionate music lovers and let your child's guitar adventure begin today.
All Popular Instrument Lessons:
We have experienced local teachers for any instrument you can think of
Lessons In Your Home Miami, FL Neighborhoods We Serve
Our National Locations