Voice Lessons In The Comfort Of Your Home
No fighting traffic, we come to you!
Lessons offered 9am-9pm, 7 days a week
Experienced, knowledgeable, passionate teachers
Lessons for all ages and skill levels
30-60 minutes sessions
Your availability is our priority
Free recitals
You know it's time to get the children started with in-home private music lessons. Maybe the lessons are for you, how about the whole family? You're smart enough to know that music lessons are important but what about finding a teacher? Do you call a music store? Will their teacher be right for you? Then there's the getting there; the traffic, hauling the kids back and forth, what about dinner? Yeah – Right! Like that's going to happen. You don't need lessons with just any ol' teacher, especially a task master, intimidating, practice demanding monster that bores students. What you're looking for is an engaged, fun, well-educated, motivational, big smiling and super excited personality that loves teaching Music. A teacher who makes lessons fun. You already know what you need. You need Lessons in Your Home-the music teachers who come to your home or school to teach fun, private music lessons. Their teachers constantly think of great ways to motivate every student. They turn students into dazzling musicians ready to break out a song and share their talents with the world. Now you're saying "Hey, this could work" Lessons in your Home teaches piano, guitar, voice, violin, in fact they teach every music instrument you could think of. Getting started is as easy as 1,2,3.

Give Lessons in your home a call or email
They'll ask important questions about each student ensuring a teacher that's best for you
Schedule and start your lessons. What are you waiting for? Start Lessons now with Lessons in Your Home!
Get Private Voice Lessons Across the Nation With Our Vocal Instructors
When you call Lessons In Your Home…

After answering any questions you might have, we'll pair you with a local teacher that best matches your age, schedule, skill level, and goals.

… and then we'll schedule your first month of lessons!
First Lesson Guarantee — If you don't LOVE your first lesson we can pair you with a teacher that better fits your situation. Or you can even cancel and pay us nothing.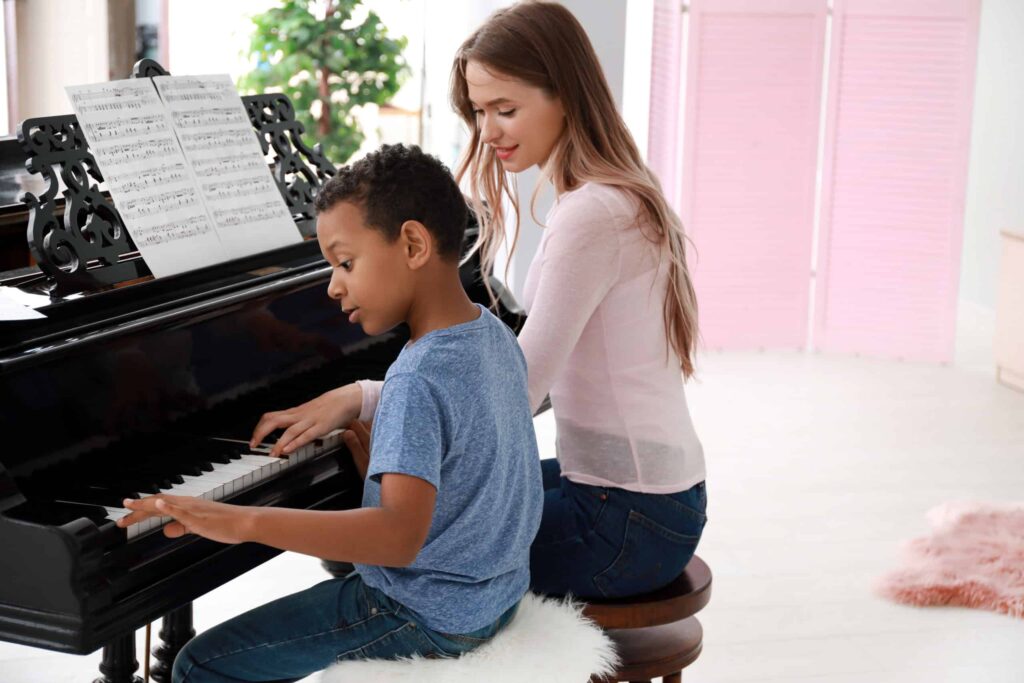 What Families Say About Us
Voice Lessons For Kids
Who doesn't love singing? It's the most accessible and interesting expression of music, since every person's voice is unique. While not everyone is born to sing like Whitney Houston or Frank Sinata, most people have the ability to sing and can improve their voice with consistent practice and instruction. Unless you're tone deaf, which less than 5% of the population is, then your child is a candidate for voice lessons!
Voice lessons can help them learn vocal cord control, pitch, timbre, and a number of skills that will get them to sing in more places than just the shower. There's a number of outlets for singing including choir, school musicals, church, and the everyday car commute. At Lessons In Your Home, we believe all people have unleashed musical potential inside themselves: you just need someone to help pull it out of you!
Voice Lesson FAQs
See below for our most frequently asked questions about voice lessons, or contact our team today. We'd be happy to help your family along in its musical journey.
Absolutely! In fact, most people can already sing; they just may not sing well yet! Similar to learning speech, we can also learn how to sing. With dedication accompanied by the right training, anyone can develop a pleasant sounding voice. Enrolling in voice lessons helps you improve tone, pitch, volume, and more.
Children should grow up singing naturally, so we always encourage parents to sing with their children and not worry about what's right or wrong. At young ages singing out loud is teaching self-expression and emotional intelligence. That said, we recommend starting voice lessons around 5 or 6, and we often encourage voice students to start with piano. These lessons take place with our staff who teach voice & piano. This resource goes into further depth on voice lessons for really young singers.
Each student's progress is different. It will depend on their previous experiences in singing and how much they practice. Generally, significant changes can be seen as early as the first month with voice lessons.
At Lessons in Your Home, we believe consistency is more important than spending a ton of tiem once a week practicing. Practicing singing for as little as 10 minutes a day may be enough for some students. Advanced students will want to practice for longer as they work on their vocal stamina. Just be careful not to strain your voice!
Before starting anything, a voice teacher will evaluate your voice and develop your lesson progression from there. A lesson usually includes the following:

Finding the right register balance (chest, middle, and head tones)
Breathing exercises to support singing
Building vocal range through singing in scales
Practicing proper posture for better breathing and sound quality
Working on diction
Learning songs to practice vocal techniques
For your voice lessons, the most important thing you'll need is a piano or keyboard. That's right; you read that correctly. A piano will help with scales and learning pitch, and it's paramount to voice lesson success. Other things to bring include:

Binder
Pen and paper
Water
A warmed up voice (your teacher will help you with exercises)

Here are a few basic things to bring to any lesson. Don't worry, your teacher will advise on what you'll need as you progress in your lessons! You may also bring music that you are interested in or are working on to show your voice teacher.
Of course not! Learning singing techniques from voice lessons will only enhance your singing voice and support your overall style. Staying true to yourself while adding in discipline and knowledge can further help you to become more expressive and have greater control over your voice.
All Popular Instrument Lessons:
We have experienced local teachers for any instrument you can think of