Atlanta Guitar Lessons in the Comfort of Your Home
No fighting traffic, we come to you!
Lessons offered 9am-9pm, 7 days a week
Experienced, knowledgeable, passionate teachers
Lessons for all ages and skill levels
30-60 minutes sessions
Your availability is our priority
Free recitals
You know it's time to get the children started with in-home private music lessons. Maybe the lessons are for you, how about the whole family? You're smart enough to know that music lessons are important but what about finding a teacher? Do you call a music store? Will their teacher be right for you? Then there's the getting there; the traffic, hauling the kids back and forth, what about dinner? Yeah – Right! Like that's going to happen. You don't need lessons with just any ol' teacher, especially a task master, intimidating, practice demanding monster that bores students. What you're looking for is an engaged, fun, well-educated, motivational, big smiling and super excited personality that loves teaching Music. A teacher who makes lessons fun. You already know what you need. You need Lessons in Your Home-the music teachers who come to your home or school to teach fun, private music lessons. Their teachers constantly think of great ways to motivate every student. They turn students into dazzling musicians ready to break out a song and share their talents with the world. Now you're saying "Hey, this could work" Lessons in your Home teaches piano, guitar, voice, violin, in fact they teach every music instrument you could think of. Getting started is as easy as 1,2,3.

Give Lessons in your home a call or email
They'll ask important questions about each student ensuring a teacher that's best for you
Schedule and start your lessons. What are you waiting for? Start Lessons now with Lessons in Your Home!
At Lessons In Your Home, we offer the best private, convenient, and most importantly, fun guitar lessons in Metro Atlanta. Our guitar lessons for kids provide a personalized learning experience with a teacher who will come directly to your home, making lessons convenient and hassle free when it comes to working around busy schedules. And most importantly, we put our students first by providing fun instruction and encouragement on their music journey.
Get Private Guitar Lessons In Atlanta with Our World-Class Guitar Teachers
Discover the vibrant music scene of Atlanta, GA, and unlock your child's musical potential with private guitar lessons tailored to their needs. Whether they dream of strumming their favorite tunes or aspire to become a skilled musician, private lessons offer an ideal platform for their musical journey. Our world-class guitar teachers have extensive knowledge and experience working with a variety of learners to help your student learn the guitar in a fun, effective way.
When you call Lessons In Your Home…

After answering any questions you might have, we'll pair you with a local teacher that best matches your age, schedule, skill level, and goals.

… and then we'll schedule your first month of lessons!
First Lesson Guarantee — If you don't LOVE your first lesson we can pair you with a teacher that better fits your situation. Or you can even cancel and pay us nothing.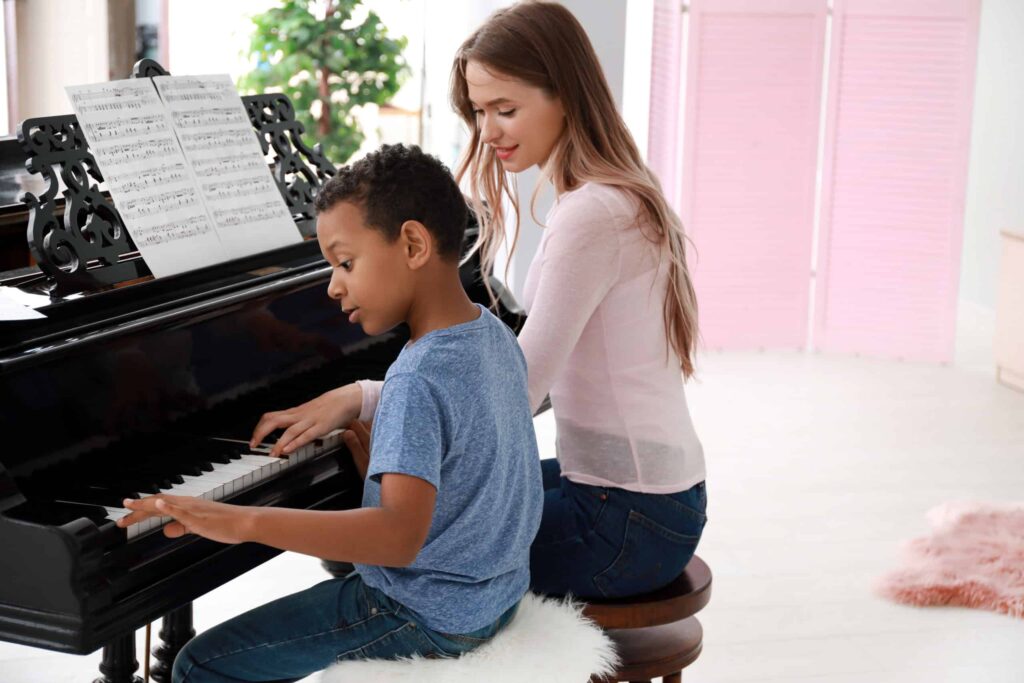 What Families Say About Us
What Makes Lessons In Your Home the Best Choice for Atlanta Guitar Lessons?
Choose Lessons In Your Home for guitar lessons in Metro Atlanta, and experience the convenience, personalized instruction, and dedication that make them the best choice. Your student can get started on their musical journey today and unlock their guitar-playing potential with Lessons In Your Home. Lessons In Your Home brings the guitar lessons directly to your Atlanta neighborhood, without all the traffic from 85 and 285! Each instructor is carefully selected and has a strong background in music education and performance. Our teachers are passionate about teaching and dedicated to helping students achieve their musical goals.
Why Guitar Lessons For Kids?
You might be wondering why guitar over other instruments? While we teach many other instruments, the guitar is a great choice when starting kids with music lessons. The guitar is an incredibly unique and special instrument. Every genre of music in our culture relies on guitar, and it's a skill that will improve a student's cognitive abilities as well as give them many opportunities to practice and perform. The most important step in learning how to play guitar is to find an experienced guitar teacher who's both motivational and fun.
While kids see playing guitar as something fun and cool, Parents can rest assured that their child is learning a critical skill that goes beyond having fun. Learning to play an instrument, especially one like guitar, helps children acquire and develop important critical listening skills, helps with focus and attention, and even stimulates them cognitively, all while providing a constructive hobby for them to engage with. Learning how to match your strumming hand with your fingering hand helps children with sensory motor integration, timing, and rhythm.
Most parents know that music can enrich a child's life. One of the regrets many parents have is not learning to play an instrument. Lessons in Your Home, specializes in private in home (or school) guitar lessons for kids. While we do have many adult learners, the vast majority of our students are kids. We cater to all ages as young as kindergarten on.
We Put Your Family and Child First
At Lessons in Your Home, we strive to cultivate a love and understanding of music in children. A majority of the students that take lessons from our organization are children! It is also proven that the younger a person is when starting an instrument, the easier they are able to master that instrument and the easier future instruments become to master. In addition, many of our younger students go on to master more than just the guitar, but it all starts with those first guitar lessons whether with a personal teacher or through virtual music lessons. However, at Lessons in Your Home we also support adult learners, so it's never too late to start pursuing a new hobby! Our teachers are paired with families in order to create the most effective relationships. It is important to us that your family feels that the instructor is safe, trustworthy, and comfortable to work with.
Getting Atlanta Guitar Lessons Near You
If you're searching for "guitar lessons near me" and you live in Atlanta, then you've come to the right place. With Lessons in Your Home you won't even have to pull out of your driveway! We serve Metro Atlanta as well as many surrounding cities from Acworth all the way down to College Park. So give us a call today. We look forward to hearing from you!
Guitar Lesson FAQs
Learning guitar is great for all ages, and a person can start as young as 4 years old. While you can start that young, it's important to contact us about the size and stringed type of guitar you intend for your child to learn on. The guitar can come in scaled sizes for students of younger ages. Typical sizes include 1/2 scale, best for students 4-7, 3/4 scale, best for students 8-11, and full sized which works well for most students 12 years old and up.
You can technically learn on either. It really depends on what your goals and desires are for learning guitar. In general, learning on an acoustic is more "foundational" for understanding the guitar as a whole. Young learners will also develop more finger strength on an acoustic, which will make switching to electric much easier. But if your child has a natural inclination to electric guitar, start them out on that!
Besides the guitar itself, there's not a whole lot more you need. We'd recommend having these things to improve and speed up learning:

Picks – Learning how to play the guitar with a pick helps young guitarists strum the strings. There's all sorts of pic sizes and thickness. When starting out, a pack of medium or soft pics will aid in learning.
Guitar Strap – If you want to play or practice standing up, then a strap is a must. Plus, guitar straps can be customized can give kids a sense of personality.
Spare Strings – Strings break down over time and need changing based on how frequently you play. It is always handy to have extra strings on hand when one string breaks, when they start to feel rusty, or when you want to improve the tone of your guitar.
Tuner – Having a well-tuned instrument is key to sounding good and staying on pitch. You'll want to start each practice by tuning your guitar as weather, humidity, and other variables can make your strings go flat or sharp.
Metronome – While you can still learn the guitar without a metronome, practicing with it at home can ensure good rhythm when playing. It is especially important when planning to play with other musicians. There are tons of devices or free apps that you can use.

When in doubt, ask your guitar teacher! They'll help you guide you in what you need to be successful.
Sore fingers when first learning guitar is completely normal. Don't worry; as you practice more, muscle strength in your forearm and calluses on your fingers will develop. The pain will go away pretty quickly in time. If necessary, there are some ways to lessen the pain when practicing such as using lighter strings. Ask your guitar teacher about this if you're dealing with pain!
Any practice is better than no practice. In fact, there is no magic number of minutes because we teach that consistency is the key to success. We'd rather our students play for 10 minutes a day daily rather than 60 minutes in one sitting in a week. One of the benefits of private lessons is that our teachers will give recommendations to your practice time and habits based on your child's learning style. There's a lot to consider on an individual student level for how much time should be spent practicing.
You don't have to read sheet music to start learning guitar! Long term, our goal for our students is to help them be independent as musicians. Reading sheet music, or learning the ability to learn a piece of new music, is foundational to that goal.
When you learn an instrument in the right way, you're not going to want to stop learning. That's the best part of having a professional private music teacher! With that in mind, students are able to play songs from the first few lessons. But remember, even the "greats" are still learning. Eric Clapton famously refers to himself as still learning and trying to get better at the guitar, so there's always room for learning and improvement.
Lessons In Your Home will pair you with a teacher for private guitar lessons across metro Atlanta, including cities such as Alpharetta, Buckhead, Marietta, Sandy Springs, Roswell, Powder Springs, Midtown, Brookhaven, Druid Hills, Inman Park, Dunwoody, and more!
Learn more about how Lessons In Your Home offers Atlanta music classes and private instruction with Music In Your School.
Lessons In Your Home connects you with an instructor who will work with your family's schedule to find a day and time for lessons that works best for your student.
No, Lessons In Your Home does not require recitals. However, our private instructors encourage students to find ways to share what they have learned with family and friends, which can include recitals, school performances, and more.
Lessons In Your Home offers private music lessons in Atlanta, including piano, guitar, and instruments your student may play in their school band or orchestra.
Our Atlanta Music Lessons Near You
All Popular Instrument Lessons:
We have experienced local teachers for any instrument you can think of