Music Lessons In The Comfort Of Your Home
No fighting traffic, we come to you!
Lessons offered 9am-9pm, 7 days a week
Experienced, knowledgeable, passionate teachers
Lessons for all ages and skill levels
30-60 minutes sessions
Your availability is our priority
Free recitals
Find flute Lessons In Houston With Our Private flute Teachers
Lessons In Your Home in is a tight-knit family of world-class flute teachers near you, right here in Houston. We are passionate about teaching flute lessons in Houston, TX and to make learning fun. Lessons In Your Home makes learning easy and accessible with our wide range of quality instructors. Our key to success is ensuring the best student/teacher relationship. Every Flute instructor goes through a rigorous interview process before they are employed by Lessons In Your Home for your Houston flute lessons. If you're looking for flute tutors near you, then simply look below. Our flute instructors are ready to meet you where you live all over Houston or via online music lessons.
The flute is a wonderful instrument to learn whether you have a child expressing interest or are a later learner looking for an enriching hobby. Due to the incredible diversity and cultural density in Houston, there are numerous opportunities to enjoy listening to world class performances from our own Houston Symphony and Houston Grand Opera, to an array of visiting groups from around the world. This environment is very motivating for the classical musician of any level and offers a great immersive musical experience.
When you call Lessons In Your Home…

After answering any questions you might have, we'll pair you with a local teacher that best matches your age, schedule, skill level, and goals.

… and then we'll schedule your first month of lessons!
First Lesson Guarantee — If you don't LOVE your first lesson we can pair you with a teacher that better fits your situation. Or you can even cancel and pay us nothing.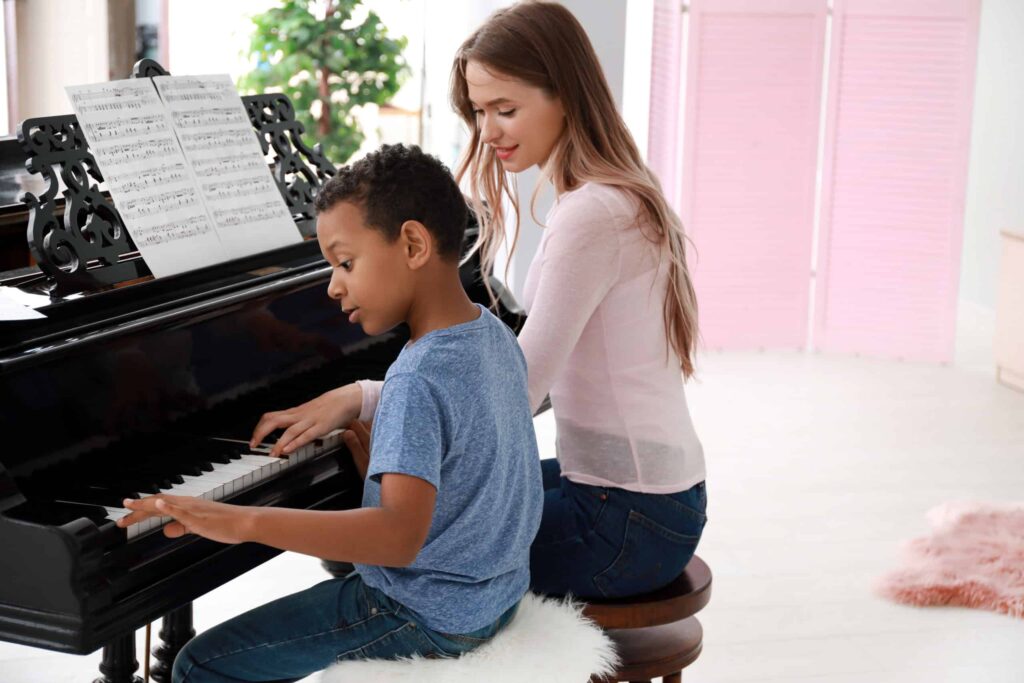 What Families Say About Us
Houston flute Lessons For Kids
Lessons In Your Home teachers are the best of the best. We offer in-home flute lessons for students of all levels, whether your child has just decided they want to play the flute in school or has interest in pursuing music as a career. Plus we offer virtual music lessons, too! Our dedicated teachers will help you pick the perfect flute for your child and offer materials and guidance to help them grow as a musician and participate in the musical community here in Houston.
Private flute teachers with Lessons In Your Home enjoy teaching students from all walks of life with many unique goals. For beginning students, simply making a sound on the flute can be very difficult, and we are as excited as our students are when they find their sound! We have students of all ages who we help prepare for school concerts, jazz solos, competitions, and recitals, and have had a large number of students play in competitive youth orchestras. With our flute lessons for kids, we want to help each student reach their own goals because we have walked this path ourselves, and not only know what it takes to achieve these goals but also how rewarding every step of the journey is.
Getting flute Lessons Near You
At Lessons In Your Home, our teachers come to you which makes taking lessons convenient to fit into every busy schedule. Being one of the largest metro areas in the country, Houston is a sprawling city and we know it can be difficult to commute and find time to fit in all of your activities without driving countless hours every week. By coming to your home, we remove this stress so your child can receive accessible flute lessons that fit into your schedule.
If you are interested in learning how to play the flute in Houston look no farther than the fantastic instructors at Lessons In Your Home! Contact us today for more information on how to get started on your own musical journey!
All Popular Instrument Lessons:
We have experienced local teachers for any instrument you can think of