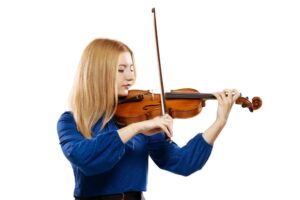 Playing violin during elementary to high-school years has been recognized as a great extra-curricular activity, resume booster for college, or simply something fun to learn. While those reasons have merit, a number of solid careers exist for violinists. When I began violin, I did not have a clear vision of what I wanted to be when I grew up and my parents also had no clue of what could become of me learning violin. As I began improving at an exceptional level, I was often confronted with the question, "What job will you get with that?" I began to understand that this question had more to do with the difficulty of finding a sustainable financial career as a musician. You might also have the same thought as you ponder enrolling your child in violin lessons. Little did I, or my parents, know that I could be a full time professional violinist if I played my cards right. Thankfully, now I know the world of possibilities. Here are some career paths any young budding violinist can consider.

Violin Soloist Career
The career path of a soloist features the finest and most talented musicians, leaving its door open to violinists who practice diligently and perform regularly. The violin repertoire has numerous solo compositions and learning violin helps one fall in love with the variety of music, the technique showcased, and the elegance of the music's performance. Young violinists master these works along their musical journey as they prepare for recitals and participate in competitions. With their growing reputation and renown, violinists have the option of joining an agency and performing on the world's most popular stages, giving solo recitals or performing concertos with orchestras throughout the year. I name these violinists "celebrities" of the music world.
Violin Orchestra Musician Career
A few times every year, you might attend your child's school orchestra concert, but your child has the option of playing in a professional orchestra almost every week as an orchestra musician. This salaried position offers violinists opportunities to continue being a part of musical communities and contributing to grand orchestral sounds. Preparing for this career involves practicing excerpts of major symphonic works and playing for a series of auditions. Euro-classical orchestra jobs are most popular, but there are opportunities to join pop, hip-hop, celtic, or other genres of orchestras.
Violin Chamber Or Smaller Ensemble Players
The Chamber or Ensemble Player career path allows a middle-ground option between playing with many people and performing alone. A professional violinist can focus on performing in a string quartet or piano trio, or become a member of a small jazz ensemble, to name a few. The variety of small ensembles are endless and opens the window for musicians to create careers with other like-minded musicians.
Violin Teacher Career
Teaching violin is a career that has a never-ending availability. Many eager people desire to learn this instrument and are searching for a good violin teacher. Teachers create their own studios of students and can personalize their teaching according to their preferences. Some teachers cater to a variety of ages and playing levels while others focus more on specific students. Teaching has been done independently or in an academic setting, taking on the role of a professor in higher level learning. I find that as a teacher myself, I use my experience of learning violin to help shape my teaching methods. Violin pedagogy courses also guide a structure for teachers and there is nothing like sharing your gifts with others along their musical journeys!
Violin Freelance Musician
This undefined career path of a musician is a more recent endeavor that leaves violinists the room to be a mix of the careers mentioned before. Freelance violinists structure their own schedules and advertise their artistry in multiple spaces, making themselves hirable for gigs, teaching jobs, and their own solo performances. This career follows the motto of not leaving all eggs in one basket and gives violinists the capacity to grow as versatile musicians.
Where To Start
To pursue any of the mentioned careers, one must still strive to be a great violinist. Lessons are critical for shaping a well-rounded player and Lessons In Your Home is here to make that happen for each of our students. Our teachers come right to your home for every lesson, plus we offer virtual music lessons, too. Our online music lessons are taught by local music teachers with live lessons tailored to your family!
By: Danya Wilson