An Easy Choice – Beginner Guitar Lessons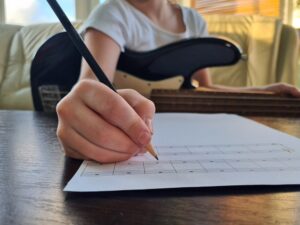 Guitar is a popular instrument for children to begin with for many good reasons: guitars can be bought cheaply, they are relatively easy to learn how to play, and most importantly, playing guitar is super fun! All our favorite songs can be played on guitar and most of them are not very hard to learn. After a few short weeks of
guitar lessons your child
will be playing their favorite songs, and maybe some of yours!
All The Hip Kids Are Doing It
While kids see playing guitar as something fun and cool, Parents can rest assured that their child is learning a critical skill that goes beyond having fun. Learning to play an instrument, especially one like guitar, helps children acquire and develop important critical listening skills, helps with focus and attention, and even stimulates them cognitively, all while providing a constructive hobby for them to engage with. Learning how to match your strumming hand with your fingering hand helps children with sensory motor integration, timing, and rhythm.
An Interesting Thought About Culture
In many cultures, and even in America for a long time, a person who couldn't play an instrument was not thought of highly at all. Maybe this is because the practice and skill that is developed while playing an instrument helps refine you and develop you as a person. Many children are able to excel and develop in ways through playing a musical instrument that is not possible in the classroom.
Why Beginning Guitar Lessons?
The question you may be asking right now is, why guitar? The guitar is an incredibly unique and special instrument. It is a blend of many wonderful instruments like the harp, the violin, and even the drum, to create a wonderfully melodic instrument that is relatively simple to learn. Every genre of music in our culture relies on guitar and your child may be the next prodigy to bring music and guitar to the next level! The most important step in learning how to play guitar is to find an experienced guitar teacher who's both motivational and fun.
Beginner Guitar Songs
A child who begins guitar lessons should expect to learn a lot right away. In fact, with a little practice they will be playing a song or two with in 2 lessons! There are not many instruments with that fast pay-off for learning – that is why so many people want to learn how to play guitar. You can go to your local music store and get a beginner's guitar for less than a $100 that sounds good and will last a lifetime! So you want to learn how to play guitar? All you have to do is sign up for guitar lessons!