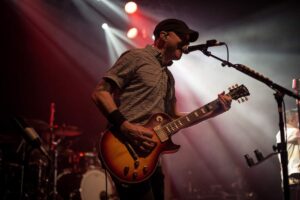 Seattle is a city rich with cultural opportunities where vocal artists have many options to explore their craft anywhere from an inspiring hobby to a full blown career. And naturally, in a city that values a rich cultural experience, there are also many opportunities for emerging vocal artists to expand and hone their musical talents by taking Seattle voice lessons. If you are an individual considering your future as a vocal artist looking for a way to explore your passion and your future, keep reading! You may have a new career waiting!

Channel your inner Rock Star!
Perhaps one of the most visible career paths for vocal artists is as a performing artist, on stage, front and center. Center stage is an incredible place to realize the rewards of diligent study from voice lessons. Seattle has a vibrant music community where vocalists can find opportunities to perform on stages big and small. Vocal artists could find themselves performing solo, with a small local rock band, or even in front of a full orchestra. Performing vocal artists can also find opportunities auditioning for televised national contests. Got stage fright? No problem! Not everyone has a natural stage presence, fortunately Seattle voice teachers can help expand those skills and help to prepare you to shine on stage.
Calling all Maestros!
Professional vocal artists often have multifaceted musical skills. Vocalists who can also read and write music might find themselves in front of a group of musicians as a composer or musical director leading a group performance. If this is a career you are interested in, it's important to find voice lessons that incorporate musical instruction to expand not only your skills in vocal technique but also your knowledge in music theory. Many opportunities for expanding both of these skills are available in person, as close as your own living room, and also virtually!
Broadway Bound!
Vocal artists are often very expressive artistically and find the combination of acting and singing in musical theater to be a rewarding artistic outlet. And while Broadway in New York City has the most famous musical theater stages, many other opportunities exist throughout the nation in cities big and small. Opportunities range from middle and high school productions, to community productions, to professional touring troupes. In order to join a musical theater production vocal artists must audition for open casting calls to show off their skills as both an actor and vocalist. Voice teachers can also give you tips for nailing your auditions to give you the edge to secure that role on stage
Quiet Recording in Progress!
Vocal artist professionals can work as paid session artists for recording studios. Recording studios big and small have a need for skilled vocalists who are on call to jump onto various recording projects. Perhaps a hip-hop artist needs a vocalist to add just the right vocal melody line to really make their beats pop or a country artist needs a vocalist to add a sweet vocal harmony to their track. The possibilities are truly endless. Individuals considering this career need their voice lessons to cover a wide range of styles so that they are prepared to be versatile in the recording studio.
Attention Class!
Sharing your skills with a new generation of musicians is perhaps the most important role for any professional musician. No one is born with all of the knowledge and skills required to navigate a career as a vocal artist. Students of all ages and skill levels need quality instructors to help them get started on their own musical careers. Music teachers are needed in small private music studios, public and private school systems from preschool to high school graduation, higher education institutions, and even post-baccalaureate conservatories. You get to decide where you might best be able to share your knowledge with the next generation of musicians!
Ready Set Go!
Are you ready to start expanding your skills to explore your future as a vocal artist? Contact us today to get matched with a skilled music professional who will help get you started! Our teachers will come right to your home for every lesson, plus we offer virtual music lessons, too. Our online music lessons are being taught by local music teachers with live lessons tailored to your child!
By Sandi Fernandez