Music Lessons In The Comfort Of Your Home
No fighting traffic, we come to you!
Lessons offered 9am-9pm, 7 days a week
Experienced, knowledgeable, passionate teachers
Lessons for all ages and skill levels
30-60 minutes sessions
Your availability is our priority
Free recitals
When you call Lessons In Your Home…

After answering any questions you might have, we'll pair you with a local teacher that best matches your age, schedule, skill level, and goals.

… and then we'll schedule your first month of lessons!
First Lesson Guarantee — If you don't LOVE your first lesson we can pair you with a teacher that better fits your situation. Or you can even cancel and pay us nothing.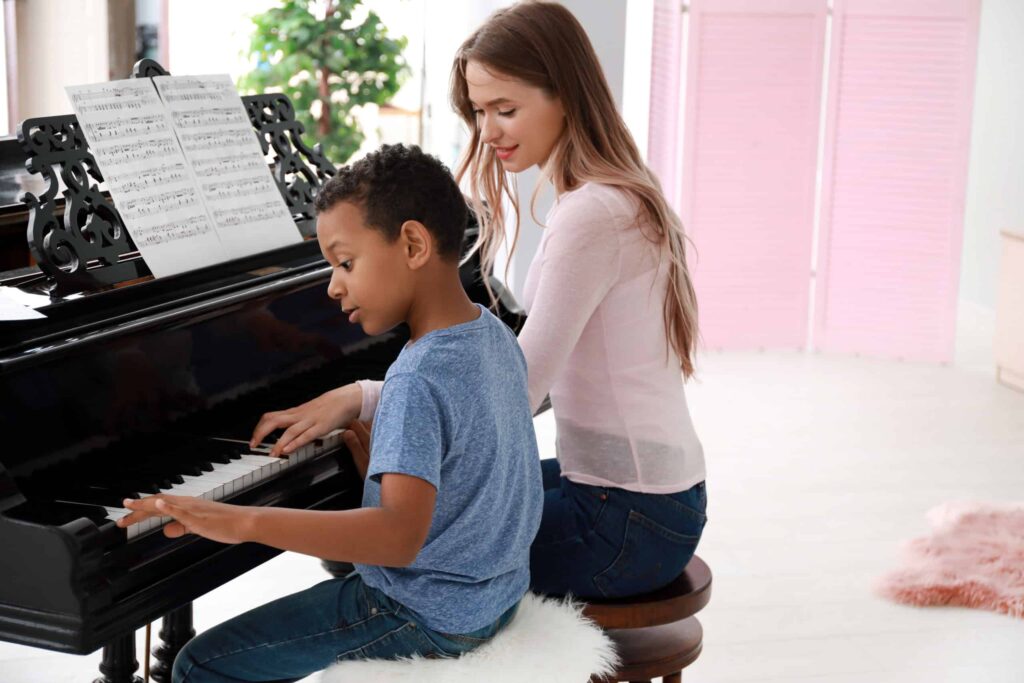 What Families Say About Us
Why Guitar Lessons?
The question you may be asking right now is, why guitar? The guitar is an incredibly unique and special instrument. It is a blend of many wonderful instruments like the harp, the violin, and even the drum, to create a wonderfully melodic instrument that is relatively simple to learn. Every genre of music in our culture relies on guitar and your child may be the next prodigy to bring music and guitar to the next level! The most important step in learning how to play guitar is to find an experienced guitar teacher who's both motivational and fun.
While kids see playing guitar as something fun and cool, Parents can rest assured that their child is learning a critical skill that goes beyond having fun. Learning to play an instrument, especially one like guitar, helps children acquire and develop important critical listening skills, helps with focus and attention, and even stimulates them cognitively, all while providing a constructive hobby for them to engage with. Learning how to match your strumming hand with your fingering hand helps children with sensory motor integration, timing, and rhythm.
Most parents know that music can enrich a child's life. One of the regrets many parents have is not learning to play an instrument. Lessons in Your Home, specializes in private in home (or school) guitar lessons for kids. While we do have many adult learners, the vast majority of our students are kids. We cater to all ages as young as kindergarten on.
Miami/South Florida guitar Lessons For Kids
Having a private guitar teacher who can make guitar lessons fun and engaging is a true game changer when it comes to learning guitar. At Lessons in Your Home our teachers have experience working with kids of all ages and backgrounds.
Our mission is to make learning the guitar an enjoyable and rewarding experience. Having fun and working at a fast pace can make lessons enjoyable. Noticeable progress on the instrument goes a long way towards making lessons truly rewarding. A key element to successful guitar lessons is finding the right match between student and teacher. Our teachers work with students of all ages and experience levels. As members of a creative profession, we bring that creativity to our lessons to deliver individualized musical instruction to all of our students.
Getting guitar Lessons Near You
As one of our most active regions at Lessons in Your Home, South Florida is the perfect place to find an excellent guitar instructor. Once you take the first step by reaching out for more information, we will get to work assigning the right teacher who can come to you or via online music lessons. That's true whether you live in Davie, Kendall, Coral Gables or Sunny isles.
What are some secret tips for a student's first guitar lesson?
For your first guitar lesson, you need a guitar that can be purchased at any music shop. Some students buy pretty guitars or the nicest brands, it is up to you. Sometimes guitars come with tuners, strap, and picks, which are essential for playing the guitar as well. Our teachers will bring any materials or books that your student might need. Here's an insider's secret that most people forget, guitar players need music stands! Music stands help students read materials at eye level and organize music where the student can read and play. Follow these tips for a successful first guitar lesson in Miami/South Florida!
How Many Guitar Lessons Will My Child Need?
A child who begins guitar lessons should expect to learn a lot right away. In fact, with a little practice they will be playing a song or two with in 2 lessons! There are not many instruments with that fast pay-off for learning – that is why so many people want to learn how to play guitar. You can go to your local music store and get a beginner's guitar for less than a $100 that sounds good and will last a lifetime! So you want to learn how to play guitar? All you have to do is sign up for guitar lessons!
All Popular Instrument Lessons:
We have experienced local teachers for any instrument you can think of