Choosing a music teacher for your child is an important part of their overall experience of learning to play an instrument. A great teacher should get your child excited about learning and playing music while helping them overcome any hesitation or challenges. Quality music teachers will be qualified and experienced, both as musicians and music educators. They should understand and act with emotional intelligence, recognizing that there is more to the world than music and that kids walk into lessons with more than their instruments on their minds. Additionally, private music lesson instructors should have a genuine love for music, patience, good communication, a desire to see students learn, and fun approaches to learning.
Searching for a music teacher doesn't need to be exhaustive, but you should be thorough to ensure you are setting your child up for success from the start. You can begin by asking around and doing some online searches. Don't be afraid to ask questions of the music teachers you're considering. They should be willing and able to address anything you ask. You should see if the teachers you're considering can teach multiple different instruments, particularly if your child isn't set on one yet or envisions adding a new instrument in a few years.
Qualities That Make A Great Music Teacher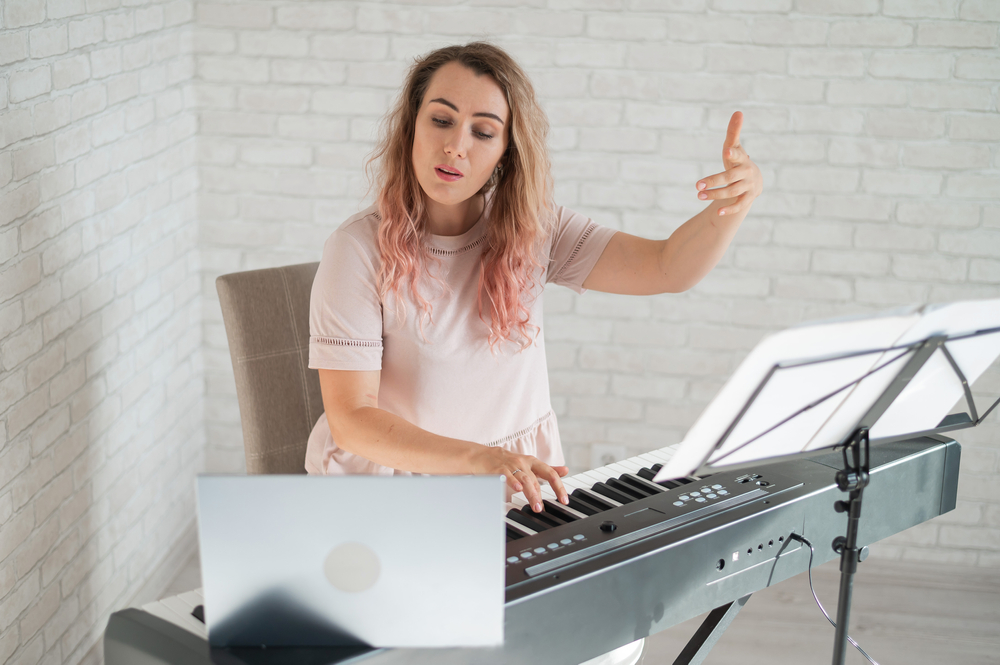 Music teachers are often as varied as the instruments they teach. Some have been playing and teaching for decades while others are newer to instruction but with a deep passion for their craft. Regardless of what levels of expertise, experience, and qualifications you are looking for in a music instructor, a handful of important qualities should be required for any teacher you consider.
The very best music teachers should all:
Have a genuine love for music, their instrument, and teaching
Be patient and understanding
Be approachable and kind
Be a good communicator, both with parents and students
Know how to make lessons and learning fun
Have a desire to help students grow and learn
A confident and capable music teacher will provide your child with a top-notch musical experience and leave them begging for more lessons, practice, and musical learning.
The Best Music Teacher Should Have A Genuine Love For Music
Have you ever met someone who just absolutely, undeniably loves what they do? Maybe they're an athlete or a teacher or a real estate agent–but they exude their love for their career in every aspect of their life, and you can't help but be interested in what they do because they speak about it so passionately. That's how a music teacher should be. Yes, it's their job, and it pays the bills, but it's so much more than just that.
The best private music teachers out there will exude their love for music right from the start, getting excited about small wins during lessons and celebrating with your child when they master a challenging skill. Passionate music teachers can not only provide your child with the technical skills and know-how to succeed in learning an instrument, but they will also help foster a love for music that simply cannot be taught. They say that with kids, more is "caught" than "taught," and we find that to be quite true when it comes to music.
It's important to note that some musicians can be passionate about music but not necessarily about teaching music. Excellent music teachers will have a passion for both music itself and teaching music. Passion and a genuine love of music cannot be faked. Students will see quickly how much their music instructor loves teaching when they master their first difficult skill or play their very first song. Music-loving teachers can't help but get excited when their students see success and begin to show off their own love of music.
Music is fun, and kids can't help but succeed at it when it's presented properly. The greatest music instructors will help your child "catch" their love of music, and it will be their driving force behind playing, practicing, and mastering their instrument.
Music Instructors Should Be Patient and Understanding
When working with kids, patience and understanding is a must. But when it comes to teaching music lessons to kids, those attributes are even more vital. Kids can be naturally gifted at music, but that doesn't mean that learning to play an instrument will be easy. Kids of all ages and skill levels are bound to get frustrated while practicing something new, and music teachers need to know how to navigate that.
The very best music teachers will have incredible patience, allowing children to try and try again as many times as it takes. Being patient will give students the freedom and space to mess up and make mistakes. These mistakes can create stepping stones toward success and are an important part of learning important skills. When students are in an environment where they feel comfortable failing, they will be more likely to take risks and find success sooner. This not only cultivates resilience in children but also promotes self-motivation and independent problem-solving.
Quality music instructors will be patient in times of struggle and understand when a student gets frustrated. They will find unique approaches to teaching challenging skills and will willingly walk your child through struggles. Good music educators will understand that kids come into music lessons with other things on their minds, and they may have trouble focusing on their lessons some days. They will also accept that practice doesn't always happen at home and that some things take longer for certain students to learn.
Music Instructors Should Be Kind and Approachable
Most people may seem kind when we first meet them, but truly kind people will behave that way in all of their interactions and in all circumstances. You want to make sure your child's music teacher is kind in how they approach teaching, address struggles, and overcome challenges.
Additionally, you want a music instructor who is approachable to both you and your child. You may not have a problem asking a difficult question or confronting a teacher about a possible problem, but your child should feel comfortable doing the same. Kids' music teachers should come across as friendly and open to conversations and questions, and they should be welcoming and kind during each lesson.
As mentioned, however, most people will typically come across as kind during initial interactions. So how can you truly know if a private music teacher is actually going to be kind and approachable consistently? One way is to find a teacher through referrals or by reading online reviews. You can also present some music teacher interview questions as you're getting to know a possible instructor. Another way is to sit in on a lesson and ask your child how he or she feels about the teacher after a few lessons.
At Lessons in Your Home, all of our teachers are screened, experienced, and fantastic at what they do. They are all deeply passionate about not only their craft but also about sharing it with music students. Our private music instructors get excited about teaching children how to play their instruments, and they are committed to exuding kindness and approachability to every parent and child they encounter, both in lessons and out.
Music Teachers Should Be Good Communicators
For music mentors and teachers, good communication skills are absolutely essential. This manifests itself in a few ways.
First, private music teachers must communicate with parents the expectations outside of class. Practices, repairing instruments, getting to rehearsals on time, and so on are all the parents' responsibilities. But if the teacher doesn't communicate that information, there will most certainly be a disconnect and some resulting frustration.
Second, they need versatility in their communication. Most music instructors teach a wide range of students, from young preschoolers to senior citizens and many in between. They need to adapt their communication style easily to "speak the language," so to speak, of their various students.
Third, they need to listen well, which is an important yet overlooked part of communication. While a music teacher's ear is likely incredible when it comes to their instrument, it can be easy for even the best music teachers to speak with authority and superiority during lessons. After all, they are the teacher and this is their job–there is nothing wrong with this. However, listening skills are vital because many other factors can come into play when students struggle with their instruments. Music teachers must be sensitive to that and be open and responsive to their students.
Fourth, and perhaps most important, private music teachers must be excellent communicators of knowledge. They must clearly and concisely explain concepts, skills, and instructions so students can apply the information. Rarely are music teachers giving lengthy speeches or elaborating on techniques for extended periods of time. Instead, they must precisely guide them toward the correct application of information and then set them loose to play their instruments.
Music Teachers Should Know How To Make Lessons Fun
Most music instructors love fundamentals, and most students do not. But since every good music teacher knows that the fundamentals of playing an instrument are vital to any future success, they have to get creative. The best private music instructors will utilize fun and unique ways to teach fundamentals, expand on skills, and improve technique in their students.
One of the keys to making music fun for kids is to stay positive. Most children will not view playing scales over and over as something they enjoy. Yet, scales are important, and if a teacher can present them in a positive and exciting way, the students are more likely to engage.
The most experienced music instructors will also actively engage with their students to keep the lessons fun. Maybe they'll take turns clapping rhythms or play their scales together. Perhaps standing up to play (when feasible) or making a game out of a fundamental exercise will be part of music lesson engagement.
While learning specific songs and styles of music isn't always the goal early on in music lessons, students are often motivated by having a role in selecting music. Maybe they get to pick a genre or artist for their next piece, or perhaps they can work on a song of their choosing during at-home practices.
Having a goal to work toward and people to share in that goal can go a long way in keeping private music lessons fun as well. Many instructors will schedule concerts and performances for their students, allowing them to interact with other music students and show what they've learned to their family and friends.
Music Teachers Should Have The Desire To Help Students Grow
If you find a passionate music mentor who loves teaching, you've likely found a private music teacher who loves to see their students grow. These music educators aren't just giving private lessons for the income–they are genuinely excited about sharing their love of music with others and teaching one of their favorite things to children. If you're searching for a music instructor like this, here are some things to keep an eye out for.
They Ask a Lot of Your Child
Music teachers who want your child to grow will set high expectations during lessons and at-home practices. They want your child to see success and feel the joy of learning something new, so they will ask your child to try their best during lessons, practice at home daily, and not give up when something is hard. This isn't them being mean–this is them caring and encouraging your child to give it their all.
They May Not Always Give Warm and Fuzzies
Truly committed, passionate teachers will not always be warm and fuzzy and overly bubbly. They will require work from your child, and they will offer critiques when needed. They won't be mean about it, but they will ask that your child meet the expectations set for them. Students should feel strongly about being prepared for music lessons. Music students do not win when their teachers prioritize being liked over teaching.
There Won't Be a One-Size-Fits-All Approach
Excellent music teachers meet students where they are. They help them progress at a speed that works for them, and they tailor their lessons and music to their skill set and abilities. They won't simply hand them a music book and ask them to work through it, although that may be part of their learning process. Great music instructors will have a baseline from which to start lessons, and then they will adapt and change as needed to best serve your child in their musical journey.
Essential Music Teacher Skills To Look Out For
All the skills mentioned above are hugely important when you're looking for a new music teacher for your child. Some qualifications will be evident from the start, while others may take time to show up.
This can be a tad frustrating while you're searching for a great music teacher, but these are all things to look out for in reviews and referrals. You can also ask some music teacher interview questions about these topics and characteristics to get a feel for how a music teacher will be long-term.
Connection with Students
They say that we remember less about what people do or say and more about how they make us feel. The same is true for great music teachers. They have legitimate connections with their students that far surpass many other relationships in terms of closeness and importance. The best private music instructors will aim to form that connection with their students from the beginning, showing that they are trustworthy adults who long to see the child succeed.
Truly Caring about the Students
This goes beyond just seeing the students succeed in their music–it's about caring about what goes on outside of music lessons. While a music teacher isn't meant to be another parent or even a counselor or friend, they should care about the well-being of their students. Something as simple as remembering a test a child was worried about or asking about a family vacation can go a long way in making a student feel cared for, which can further lay the foundation for a solid teacher-student relationship.
Believing in the Students
The best music instructors should believe that every student is capable of success. Truly anyone can learn to play an instrument with quality instruction and hard work, and you should choose a music teacher who confidently believes this. If your child's private music instructor doesn't feel like everyone can learn an instrument, that opens the door for worry and lack of confidence in your child. Belief in someone can go a long way in helping them succeed, and whoever teaches your child's private music lessons should have that belief.
Provide Moments for Independence
A good teacher will eventually render herself useless. Like parenting, the goal of teaching is that the child will no longer need instruction one day. Quality music mentors will offer opportunities for students to explore their independence as musicians, whether through composing, performing, or simply experimenting with their instruments. Successful teachers will create an atmosphere of learning where students feel confident and comfortable to take risks and work to improve on their own.
Being a Forever Student
The best teachers are the best learners. Music educators rarely see themselves as incredible musicians but are often self-reflective in their skills. They long to improve their own skills and are constantly learning and growing, taking on the role of "forever student." You don't want a teacher who feels like they have "arrived" in their instrument abilities, but rather someone who is still putting in the hard work to learn and grow. They will be more relatable to the music students and more effective in their teaching approach.
Relevant Experience and Qualifications As A Musician Or As A Music Teacher
Becoming a private music teacher doesn't have an entrance exam or certification requirements, so it's up to music schools and parents to determine the level of qualification of a particular instructor. In most cases, there is not a set minimum in terms of years of experience playing or teaching.
Some of the most passionate music teachers are fresh out of college, so where they lack experience, they make up for in excitement and commitment to teaching. At the same time, seasoned music teachers bring something different to the table. While they may not have youthful vigor or the most up-to-date teaching methods, their experience will render them extremely effective in teaching any student.
The most important thing in finding a music teacher is that they have played their instrument for a long time and are passionate about teaching that instrument to the next generation. They should have a strong foundation in their instrument's fundamentals, as well as the fundamentals of music theory. They should not "teach to a concert" but rather reaffirm the importance of basic technique and instrument basics.
Deep Knowledge Of Music Theories and Techniques
Music theory is one part of learning an instrument that most people don't expect to learn, but it is hugely important. Music theory is all about examining the elements that make up a music piece, such as key signatures, time signatures, chord progressions, and notation. Understanding music theory is key to understanding how music is written and how to effectively interpret musical notes. Good music teachers will have a strong grasp of music theory themselves, and they will integrate music theory into their lessons.
Having a firm grasp of musical techniques is also an essential part of being a good music teacher. Your child's music teacher will not only demonstrate different holds for their instrument, but they will also show varying techniques for making music and improving tone. They will explain different approaches to learning a piece of music, memorizing it, and expanding on their fundamentals.
Emotional Intelligence: Every Good Music Teacher Should Have It
Emotional intelligence is all about understanding your own emotions and those of others. This trait is especially important for private music teachers as they interact directly with students and parents for prolonged periods of time, often in one-on-one settings. A good music teacher needs to have strong emotional intelligence in order to succeed in teaching students.
If a student is acting out, struggling, upset, or dealing with any other host of negative emotions, the music teacher must act as a detective of sorts. Great teachers can generally ask a few questions to determine the root cause of the problem, and then they can work to resolve it alongside the student. Perhaps a student had a rough day at school or got in a fight with their sibling before class. This can impact their behavior during their music lesson, but a great teacher can help them rise above those emotions to focus on their music, often offering a remedy to the issue in the process.
Where To Find A Music Teacher?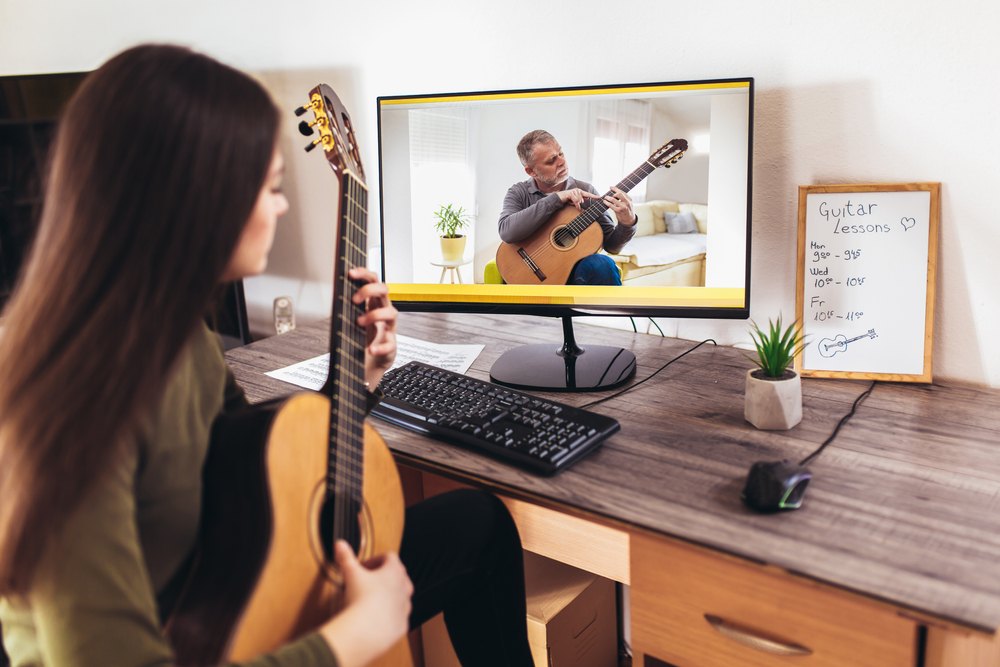 Looking for a great private music teacher can feel overwhelming, but you have the world at your fingertips and multiple resources to help you connect to the best one for your child.
Remember to ask some music teacher interview questions to get more information about experience, values, goals, techniques, and approaches to teaching. If you're still looking for a fantastic music instructor for your child, here are some places to begin searching.
Your Child's School
If your child is in elementary school or above, talk to the school's music teacher. Even if they don't offer private music lessons, they likely have a network of musicians who do teach lessons. Even better, if they know your child well already, they may be able to recommend a particular instrument and/or instructor who will mesh well with your child.
Musical Instrument Stores
Consider taking your child to a local music store. It not only makes for a fun outing, but your child can try out a few instruments and you can chat with the owner about private music lessons. Oftentimes, people who work at these stores will give private music lessons. If they don't, chances are they know someone who will.
Group Music Lessons
Lots of local parks, libraries, and organizations do group music classes for younger kids, and some music stores and schools will do the same for older students. This can be a great place to get plugged into the local music network, and you can meet other students and parents who are interested in private music lessons. Instructors of these group classes are connected with other teachers and often give private lessons themselves.
Nearby Colleges
If you have a college or university in a nearby town, consider checking out their music program. College students who are studying music are often great music teachers to youngsters looking to learn a new instrument.
Referrals and Online Reviews
Ask your family members, friends, parents at the local park, and whoever you interact with about private music lessons. You can also do an online search and read reviews about private music teachers.
Music Schools and ProgramsMany towns have youth music schools and programs that are tailored to teaching young musicians in a private lesson setting. If you can't find one locally or don't want to drive to lessons, consider a program like Lessons in Your Home. We have a large network of music teachers that can come to your home or teach your child online, and all of our instructors are tried and true, with excellent experience and qualifications.
Other Important Things To Consider When Looking For A Music Teacher
You have a lot to consider when selecting an excellent music teacher for your child. Keep in mind that you should be asking music teacher interview questions and that it may take a little while to find the ideal instructor for your child.
Consider Musical Style
If your child wants to play classical piano, don't hire a music instructor who primarily teaches jazz. At the same time, if your child wants to learn their favorite songs on the guitar, don't hire a music teacher who offers no flexibility in song selection. Consider your child's musical tastes and ask a potential music teacher about their own musical styles in teaching.
Opt for a Network of Teachers
While you will want one individual teacher who works with your child consistently, selecting that instructor from a musical educator network is a much better option than choosing an individual teacher. While standalone teachers may have life changes that take them away from lessons, such as a move, a pregnancy, or a change in employment, networks of instructors can support each other and fill in gaps where needed. For example, our teachers can share students and lesson plans, so your child won't miss a beat if their teacher is unavailable for any length of time.
Consider Logistics
Your student is likely most concerned with their music teacher being nice and letting them play fun songs. As the parent, you need to consider the logistics of the relationship. Ask potential music teachers about fees, scheduling, cancellation policies, and so on. Most experienced music teachers will lay out this information at the beginning of the conversation, but it's important to consider these things from the start.
Ask About Opportunities to Perform
Just as practice helps with growth, so does performing. Many music teachers will offer recitals or concerts for their private music lesson students, but some will also provide showcases at festivals, community events, and more. They should be given a chance to audition for solos and unique performance events, as this offers a great deal of motivation to work hard and improve their skills.
Lessons in Your Home offers superb musical instruction for children and adults of all ages. Our large networks of music educators are passionate about helping their students learn and grow, and we're confident you will find an amazing music teacher with us.