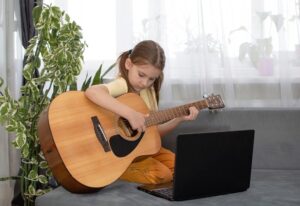 Learning to play the guitar is challenging, and you want to encourage your child as much as you can to show your support. While looking into guitar lessons in Seattle, you have also thought about what kind of guitar would be the best for your child.  Buying a guitar for them that will best suit them is one of the best ways to show your support. But which one should you buy and which one will be the right one for your son or daughter?
Four guitars that are perfect for kids
1. Yahama JRI FG Junior
Price: $169.99*
Type of strings: Steel
What makes it one of the best: This is an excellent guitar for kids who are new to learning the guitar. The string scale is about 21″, which makes it the perfect length for your little one. Picking a guitar fitted to your child's size will make it easier for them to handle and encourage them to play often. Keep in mind, as your child grows, they will one day grow out their guitar. This guitar is an affordable price for a quality instrument. It also comes with the necessary accessories your child needs as they start playing, including a guitar strap and a travel bag. The only potential drawback to this guitar is that its sound is not very loud or bright. Overall, it's lightweight, has steel strings, and has what your child needs to succeed with lessons.
2. Martin LX1 Little Martin
Price: $399 – $499
Type of strings: Steel
What makes it one of the best: Martin is a well-known, high-quality brand. This Martin guitar delivers a loud and bright tone, but not everyone will enjoy it for that purpose. It's lightweight and easy to travel with. Its smaller size also makes it easier for a child to learn how to play it well, especially for beginners. Some will suggest that if you purchase this guitar and don't want the sound to be as loud as it is, then you should change the strings on it. Of course, consult your guitar instructor or someone who works at your local music shop. If you're curious to learn about the different types of guitar strings out there, check out our blog here to learn more.
3. Squier by Fender Mini Strat
Price: $179.99*
Type of strings: Nickel-plated steel
What makes it one of the best: What if your child is interested in learning the electric guitar? This Squier by Fender is an excellent place to start for your son or daughter. It's made with high-quality materials, delivers a loud sound, and is an ideal size for a youngster who is just starting to learn the guitar. This guitar will need to be tuned often. The price is affordable, and for $25 to $50 more, you can purchase additional accessories your child will need like a guitar strap, soft bag, and other items. Electric guitars come with many other accessories that can add up over time but make fantastic additions for your child to explore as they continue learning to play the electric guitar. Click here to know what your child can do before they start taking guitar lessons.
4. Yamaha CGS103A 3/4-Size Classical Guitar
Price: $139.99*
Type of strings: Nylon
What makes it one of the best: If your child is interested in learning classical guitar, this is the best pick for him or her. This guitar carries a beautiful sound and tone. It's lightweight but made with durable wood, and it's affordable. This guitar also comes with nylon strings, as all classical guitars do, and will help your child quickly develop callouses on their fingertips without the extra pain. Nylon string will also help your child with fingerpicking and chord progressions.
Ready to get started?
You might be wondering how to start learning the guitar. You can take a chance on ordering a guitar online, but you're likely to have a good experience at your local music store. There, your child can explore the different guitars available and can try on other guitars to see which one would fit them the best.
If you're still unsure which guitar to get for your child, you can hire a guitar teacher in Seattle and ask them for their opinion. They will point out to you the best brands for learning and the most optimal size for your child, depending on their age or size.  At Lessons In Your Home, we hire the best of the best, and we thoroughly vet all of our instructors. They can either come to your home to teach or can also provide online music lessons. Our virtual music lessons are taught by local music teachers who plan their lessons to suit your child. Contact us today to find an instructor your child will remember for their lifetime.
*Prices reflected on Amazon. Prices may differ in other stores.