There are mainly 3 types of guitar teachers today; In-Home teachers, Private Studio Teachers, and Home Based Guitar Teachers. How can you decide which one is right for you or your child? You might get a good idea of what you're looking for after reading through the types below:
In-Home Music Teachers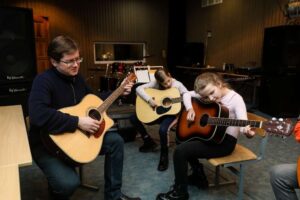 There are teachers who are willing to travel to your home to provide music lessons (that's what we do). In-Home guitar teachers use your house as their studio and what's really neat is your child, or you, get to learn in your own environment. Your guitar teacher will bring books and materials, they may ask you to have a portable speaker available for the lesson. These type of teachers work great for families who are looking for a little more flexibility, comfort, and convenience. It's also a great opportunity for parents to participate in their child's lesson more.
Guitar Lessons In a Private Studio
Many teachers provide their services at places like a private studio, in churches, or in schools. They may have students scheduled back-to-back. Students usually wait outside the guitar studio until it's their turn and then start their guitar lessons. Music lesson policies are standard but check for small variations about cancelling and rescheduling a lesson. You may see an array of music books, organized cabinets with supplemental activities, and various other tools they use to teach. These teachers are good for families who are willing to travel to their lesson and work in an errand.
Home Based Guitar Teacher
Some teachers open up their own home to have students come over. These lessons are the most comfortable for the teacher and if the location works for the guitar student, lessons can be really rewarding. Check to see if the teacher has been teaching for a while because sometimes neighbors can put the axe on these lessons happening in a community if it creates any disturbance.
3 Types Of Guitar Teachers, One-Type Guitar Lessons
Although there are three types of situations you could take guitar lessons in, all these ways should be able to offer you a great lesson. Choose what will work best for you and you'll find you'll get more out of the lessons then if you settle for something that's just not right.