Start at the Beginning
Sometimes it's ju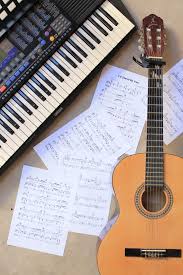 st seems easier to start fresh and a new year is often the time people set goals or make changes in their life. The hurry of the holidays is past and often there is more free time available. With music, it doesn't matter if it's a new year or not. It's ALWAYS a good time to start or restart lessons. Whether you go back to an instrument you've studied before or try something new, just set that goal, take that step and enjoy the beginning of beautiful music.
Contact us today to get started and make 2017 the year your child becomes a musician!
January Teacher Spotlights
Atlanta – David Fu – piano, guitar & bass

David is from Auckland, New Zealand and earned his degree in contemporary music and performance from MAINZ in Auckland. While there, he met his favorite teacher and accomplished jazz pianist, Alan Brown. David says that Brown made music theory very interesting and his class was always full of laughter.
When he was seven years old, David started playing the piano when he was seven because his sister was also taking lessons. He though it looked interesting and fun, but it took many years for it to become something that he now loves to do. He also started guitar lessons at age 13. His guitar is a Gibson SGJ, which is very light and durable with a beautiful brown color and excellent tones. This is his 'go-to' instrument for all of his studio and performance work. He purchased it from a guitar shop in New Zealand while in music school and he says it's "nothing but the best".
David's biggest supporter is his wife. "When times are tough, she pushes me on to continue to teach instead of looking for another job.
David's best advice for students is heard from many of our LIYH teachers – KEEP PRACTICING! He says, "make sure you put aside at least 10-15 minutes a day for it. Also, if you don't understand the lesson, don't let that discourage you from practicing other things or asking your teacher again the next lesson – we're here to help!"
Houston – Judy Masters – piano


Judy started playing piano at age 5, when her parents noticed she had an interest and decided to find a piano teacher. She attended a high school for performing and visual arts and earned her Bachelors and Masters degrees in piano performance from Baylor University. Her favorite music teacher, Mrs. Lavonia Freeland, taught Judy from age 11-18. Freeman treated Judy like her own granddaughter and was very dedicated. The two would have 3-hour lessons every Saturday to get Judy ready for auditions and competitions. Judy also performed and attended the Bosendorfer Piano Academy in Vienna Austria where she also studied Wolfgang Watzinger, a professor at the Vienna School of Music.
When Judy was 15, her parents offered her a car or a piano. She opted for a piano, a Boston upright that she still uses today.
One of Judy's best teaching experiences was with a 5 year old boy named Sami. He was from the UK and very talented. "He had a lot of expressions and practiced a lot," she said. Judy's best advice for students is "Perfect practice makes perfect. Quality of practice is much more important than how much you practice," she said.
Washington D.C. – Evelyn Tsen – piano & voice

Evelyn received her BA in vocal performance from Augsburg College in Minneapolis, MN and then attended Boston Conservatory for her graduate performance diploma.
She was born and raised in Malaysia and started playing piano at the age of six. "I was eager to learn because my older sister had already begun a couple years before me," she said. She grew up as a church musician, which exposed her to all types of music. While in college Evelyn discovered her vocal abilities. She became fascinated with opera and continues to take voice lessons and perform.
Her best tip for students is to be patient and humble while learning. "It's tempting to want to get things right the first try, but music does not work that way. There is no automatic button for becoming a musician. In order to create music, there needs to be a sufficient amount of foundational work. The fun can only begin after you've put in all the hard work," she said.
Evelyn's biggest supporter is her husband who loves her unconditionally. "…. knowing that he'll love me no matter how my lessons went or how I sang is what keeps me sane at the end of the day," she said.
"My voice is special because only I have it," she said. "No one else owns this instrument. Every time I play it I am reminded of the truest definition of musical gift. It isn't a hand me down. No one built it and I didn't even purchase it. I don't even have to look for it. My voice is literally a gift from God."
Miami / South Florida – Mithcell Bonkowksi – piano, guitar & voice


Mitchell started singing in his church choir at age six. For his 7th birthday, his gift was piano lessons at the music store across the street from his house. He started guitar lessons at age 10. He played in rock bands in high school, but changed to classical music in college, earning a Bachelors of Fine Arts from University of Wisconsin Milwaukee in classical guitar and music history and a Masters of Music in guitar from Florida State University.
Rene Izquierdo, an instructor at UW-Milwaukee is Mitchell's favorite teacher. "Born and raised in Cuba, he is an extraordinary musician and person. He is known in the field for his excellent technique and musicianship and generous attention he gives to any teaching or performance situation," Mitchell said, "…. He guided me through the arduous and complex process of becoming a capable academic musician, and I will always be thankful of his patience, persistence and intensity."
Mitch says his biggest musical failure was quitting trumpet in high school. "I thought I wasn't good enough…and further argued that I was challenged enough with piano and guitar. I would later understand that learning a different instrument would have expanded my musical mind and improved my ability on other instruments," he said.
Since 2007, Mitchell has been teaching students of all ages. He believes in the potential of every student. His best advice to them is, "Take as many opportunities to explore music as possible, whether it be a concert, workshop, lessons, books, recordings or just being around musicians. These events or materials are created to enjoy the many different aspects of music to improve ability and enjoyment. More exposure creates a more open and versatile mind," he said.
Denver – Jeanette Smith – brass & woodwinds

Jeanette earned a Bachelors degree from Point University (Atlanta Christian College) with a double major in Music and Christian Education. She started taking piano lessons around age 6 or 7 and continued through college. Her first piano was an old family piano, that was so rugged it could cut her fingers when she played. When she was around 15 years old, she visited a music store and put money down on a new one. At that point, her parents realized she was serious about music and bought the piano for her. She's taken good care of it and it's still in excellent condition today. Over the years, she's also picked up other woodwind and brass instruments and singing.
Music theory is important to Jeanette and she likes to introduce it with a first lesson. "(Students) need to know why they are playing and what makes music makes sense," she said. If a student is having a hard time concentrating, she'll have them march to the rhythm of the piece they are working on or do 'cross overs' (making a figure 8 in the air to cross over one side of the body to the other.
Jeanette's best tip for students is, "Learn the music, then make it yours. Understand it and have fun. Make it music just not notes." Her biggest goal for students is that they fall in love with music, no matter the type or how its performed.
Orlando – Jennifer Guo – violin

Jennifer started playing violin at age 10, in 5th grade. She says she chose the violin because it was a small instrument and easy to carry around. She continued to participate in her school orchestra throughout middle and high school, participated in the Brevard Symphony Youth Orchestra and is currently a member of UCF Symphony Orchestra. She also volunteers her time at several local youth orchestra programs in Brevard county.
Jennifer's favorite music teacher and also her biggest supporter in performing and teaching is Erik Bryan. Mr. Bryan was Jennifer's middle & high school orchestra conductor. "His fun and unique ways of teaching really inspired me to keep playing violin even after high school. His strong passion for music encouraged me to start teaching. He constantly gives me advice on teaching and he also helps me when I have upcoming performances," she said. "Have fun while playing and work hard," is Jennifer's best advice to students.
Seattle – Carl Germain – guitar & piano

Carl has studied music many places, but his most significant was Guitar Craft courses, directed by Robert Fripp. Fripp is best known as the guitarist of King Crimson and collaborator with David Bowie and Brian Eno. "This experience redirected the course of my life, and also brought me to Seattle," he said.
Carl was born into a family of professional musicians and began taking piano lessons at age 4. As a teenager he played violin in his school orchestra and also began guitar, which he now considers his main instrument. His biggest supporter is his sister, Nora Germain. "(She's) an incredible jazz violinist (and) has helped my musical career in so many ways," he said. Carl studied gypsy and blues jazz guitar with Nora and the two recorded a CD together.
One of his favorite personal instruments is n Ibanez Artist semi-hollow electric guitar that his father purchased from the NAMM (National Association of Music Merchants) show in 1982.
One of the highlights of his teaching career came a few years ago when some of his teenage students put on a Talking Heads tribute concert. Some of Carl's musical heroes, including Carrie Brownstein (Sleater-Kinney) and Annie Clark (St. Vincent) were in the audience.
Carl's best advice for students is, "Every time you practice, make sure you 'play'! What I mean is there should be a spirit of fun, curiosity and spontaneity. This is what gets you past those frustrating moments when things get hard. If practicing becomes a chore, that usually means it's time to change something up."
Welcome New Students

Lessons In Your Home Atlanta would like to welcome the following new students to our LIYH family.
We're so glad you've decided to take music lessons with us!
ATLANTA
Nia M. in East Point taking piano lessons with Erik Lofgren
Bob K in Lawrenceville taking drum lessons with Stephen King
Liam T in Sandy Springs taking drum lessons with Stephen King
Henry S, in Marietta taking oboe lessons with Kimberly Cook
Ryan W in Alpharetta taking drum lessons with Stephen King
Cole B, in Roswell taking voice & piano lessons with Maria McDonald
Jack A,in Sandy Springs taking violin lessons with Nick Heaton
Mary Anna M in Sandy Springs taking guitar lessons with David Fu
Anna L, in Cumming taking piano lessons with James Schneider
Paxton M in Atlanta taking violin lessons with Nick Heaton
HOUSTON
Addison W. taking piano lessons in Houston with David Camarena
David W. taking piano lessons in Houston with David Camarena
Ahn D. taking piano lessons in Houston with Misaki Nishidate
Mihn D. taking piano lessons in Houston with Misaki Nishidate
WASHINGTON D.C.
Bronwyn taking piano lessons in Bethesda with Jasmine Mays
Abigail taking piano lessons in Fairfax with Quennie Moreno
Jim taking guitar lessons in Washington, D.C. with Tony Porreco
Annie taking guitar lessons in Arlington with Tony Porreco
Jamie taking piano lessons in Oakton with Quennie Moreno
Rhythm taking piano lessons in Manassas with Quennie Moreno
Julia taking piano lessons in Fairfax with Quennie Moreno
Lynn taking piano lessons in Alexandria with Leo Ciarlone
Ceylon taking piano lessons in Woodbridge with Quennie Moreno
Allie taking piano lessons in Vienna with Nicole Morris
MIAMI
Nathan A taking voice lessons in Miami with Emilio Sole
Richard D. taking bass guitar lessons in Miami Beach with Chris Valente
Jaden T. taking guitar lessons in Miami with Rodolfo Arteaga
Adriana M. taking violin lessons in Miramar with Jose Torres
Isabella D. taking violin in Miramar with Jose Torres
Andrew M taking piano in Hialeah with Mitchell Bonkowski
Isabella A. taking guitar in Hialeah with Mitchell Bonkowski
Samantha A. taking violin in Hialeah with Mitchell Bonkowski
DENVER
Sadie W taking drum lessons in Lafayette
Poloma taking drum lessons in Thornton
Samantha R. taking piano lessons in Littleton
Elizabeth R. taking piano lessons in Littleton
ORLANDO
Angela A. taking drum lessons in Oviedo with Kyle Haneski
Ingrid J. taking guitar lessons in Sanford with Craig Sawyer
David G. taking guitar lessons in Winter Park with Terran Fernandez
Sandy F. taking guitar lessons in Windemere with Craig Sawyer
Alonzo C. taking drum lessons in Orlando with Kyle Haneski
Natalie J. taking guitar lessons in Winter Springs with Marty Grosso
Magdalee J. taking piano lessons in Ocoee with Les Walker
Dennis B. taking violin lessons in Orlando with Jennifer Guo
SEATTLE
Damien L. taking piano lessons in Seattle with Charlotte Gilbert
Eric L taking piano lessons in Seattle with Charlotte Gilbert
Reade H. taking piano lessons in Seattle with Cole Holland
Piper H. taking piano lessons in Seattle with Cole Holland
Blake H. taking piano lessons in Seattle with Cole Holland
Brynna K. taking violin lessons in Bellevue with Mia Diluzio
Mary Beth K taking violin lessons in Bellevue with Mia Diluzio
Ethan W taking piano lessons in Issaquah with Denise Miersma
Amelia L taking guitar lessons in Seattle with Scott D'Angel
Abigail Z taking guitar lessons in Bothell with Carl Germain