Atlanta Voice Lessons in the Comfort of Your Home
No fighting traffic, we come to you!
Lessons offered 9am-9pm, 7 days a week
Experienced, knowledgeable, passionate teachers
Lessons for all ages and skill levels
30-60 minutes sessions
Your availability is our priority
Free recitals
You know it's time to get the children started with in-home private music lessons. Maybe the lessons are for you, how about the whole family? You're smart enough to know that music lessons are important but what about finding a teacher? Do you call a music store? Will their teacher be right for you? Then there's the getting there; the traffic, hauling the kids back and forth, what about dinner? Yeah – Right! Like that's going to happen. You don't need lessons with just any ol' teacher, especially a task master, intimidating, practice demanding monster that bores students. What you're looking for is an engaged, fun, well-educated, motivational, big smiling and super excited personality that loves teaching Music. A teacher who makes lessons fun. You already know what you need. You need Lessons in Your Home-the music teachers who come to your home or school to teach fun, private music lessons. Their teachers constantly think of great ways to motivate every student. They turn students into dazzling musicians ready to break out a song and share their talents with the world. Now you're saying "Hey, this could work" Lessons in your Home teaches piano, guitar, voice, violin, in fact they teach every music instrument you could think of. Getting started is as easy as 1,2,3.

Give Lessons in your home a call or email
They'll ask important questions about each student ensuring a teacher that's best for you
Schedule and start your lessons. What are you waiting for? Start Lessons now with Lessons in Your Home!
Are you interested in finding private voice lessons to nurture your child's vocal talents and provide them with a personalized learning experience? Look no further! Lessons In Your Home offers the convenience of private voice lessons across metro Atlanta, where a talented vocal instructor will come right to your doorstep. Jumpstart your child's musical journey when you schedule Atlanta voice lessons with a dedicated instructor through Lessons In Your Home. Enrolling in private voice lessons with a respected Atlanta instructor can nurture vocal skills, ignite creativity, enhance self-esteem, and ignite a lasting love for the art of singing.
Get Private Voice Lessons Across Atlanta With Our World-Class Voice Teachers
At Lessons In Your Home, our dedicated voice coaches personalize each lesson to cater to your child's individual requirements, aspirations, and preferred learning methods. We recognize the uniqueness of each student, and thus, we provide a versatile teaching approach that guarantees both convenient and enjoyable learning experiences. In addition to refining vocal abilities, our outstanding private voice instructors in Atlanta instill a profound love for music, nurturing a lifelong enthusiasm that promises joy and satisfaction for your child in the years to come. Furthermore, learning in the comfort of your own home can alleviate performance-related nervousness and self-consciousness, ultimately enabling your child to explore and cultivate their singing talents with confidence and ease.
When you call Lessons In Your Home…

After answering any questions you might have, we'll pair you with a local teacher that best matches your age, schedule, skill level, and goals.

… and then we'll schedule your first month of lessons!
First Lesson Guarantee — If you don't LOVE your first lesson we can pair you with a teacher that better fits your situation. Or you can even cancel and pay us nothing.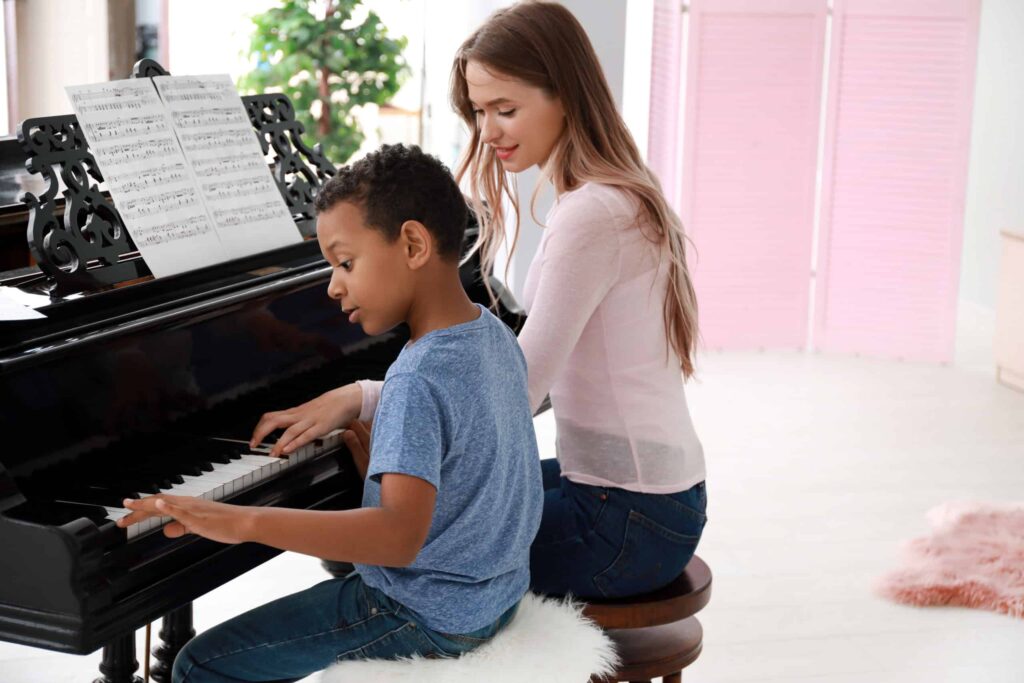 What Families Say About Us
Ready To Learn to Sing? All Ages Are Welcome!
Voice lessons offer a world of benefits for children of all ages, and as parents, you'll be delighted to witness the positive impact on your child's life. Beyond the joy of learning to sing beautifully, voice lessons instill essential life skills. They nurture discipline, concentration, and patience, all valuable qualities that extend far beyond the music room. Your child's self-esteem will soar as they conquer vocal challenges and achieve milestones in their singing journey.
Private voice lessons not only enhance your child's vocal skills but also nurture their creativity and emotional expression through music. These lessons provide a supportive environment tailored to their individual needs, promoting both musical proficiency and personal growth. Whether your child is aiming for a professional singing career or just wants to improve their abilities and broaden their musical repertoire, our one-on-one coaching ensures a comprehensive and rewarding learning experience.
In addition to musical skills, our voice lessons impart crucial life skills such as commitment, perseverance, self-discipline, and efficient time management. These qualities are essential for success in various aspects of life, from music to academics and personal endeavors, making the lessons a valuable investment in your child's future.
What To Expect When Joining Our Atlanta Voice Lessons
When you sign up for our voice lessons at Lessons In Your Home in Atlanta, you're investing in more than just musical training for your child; you're also contributing to their personal growth. Our in-home lessons can be tailored to the student's specific needs and preferences, allowing for a personalized curriculum and individualized attention. Lessons In Your Home also makes it possible for parents to be present and able to observe or even participate in their child's learning experience. This can make it possible for parents to understand more about how their child learns and how to best encourage them. Overall, private voice lessons at home combine a convenient and comfortable learning environment, which makes Lessons In Your Home an appealing choice for many aspiring vocalists.
And there's more – as a parent, you get a front-row seat to your child's musical journey. You can choose to observe or actively participate in their lessons, providing you with valuable insights into their learning style and progress. This understanding can be instrumental in supporting and encouraging your child in the most effective way. Ultimately, when you choose Lessons In Your Home for voice training, you are opting for a learning experience that is convenient, personalized, and conducive to your child's growth, both musically and personally. It's a unique opportunity to be directly involved in your child's development, making it a truly rewarding experience for both parent and child.
What Makes Lessons In Your Home the Best Choice for Atlanta Voice Lessons?
Choosing the best place for your child's musical education in Atlanta is a significant decision. At Lessons In Your Home, our commitment to excellence sets us apart as the most flexible choice for you and your family. With our highly skilled instructors, personalized teaching approaches, and the convenience of in-home or virtual lessons tailored to Atlanta residents, your child will embark on an enjoyable experience and vocal learning journey.
Frequently Asked Questions About Atlanta Voice Lessons
Absolutely! Lessons In Your Home offers private voice lessons across metro Atlanta, including Marietta, Decatur, Alpharetta, and Sandy Springs.
The cost of private voice lessons can vary based on the location and duration. Please contact Lessons In Your Home for specific pricing details.
We collaborate with certain schools in your area to provide voice lessons. Learn more about our Music In Your School program.
At Lessons In Your Home, we work within your family's daily routine to find a time that works best for you. Our instructors will work with you to identify a lesson time that suits your needs and preferences.
Booking your first voice lesson with Lessons In Your Home is easy! You can get started by calling or by filling out our simple web form. One of our Lessons In Your Home team members will help guide you through the process.
We don't require students to participate in recitals, though we do encourage them! Recitals can be a great way to share with family and friends all that you have learned through your private lessons.
We offer private voice lessons across metro Atlanta and major cities in the US. Check out our full list of cities where you can find private voice lessons in your area.
All Popular Instrument Lessons:
We have experienced local teachers for any instrument you can think of
Lessons In Your Home Atlanta Neighborhoods We Serve
Our National Locations