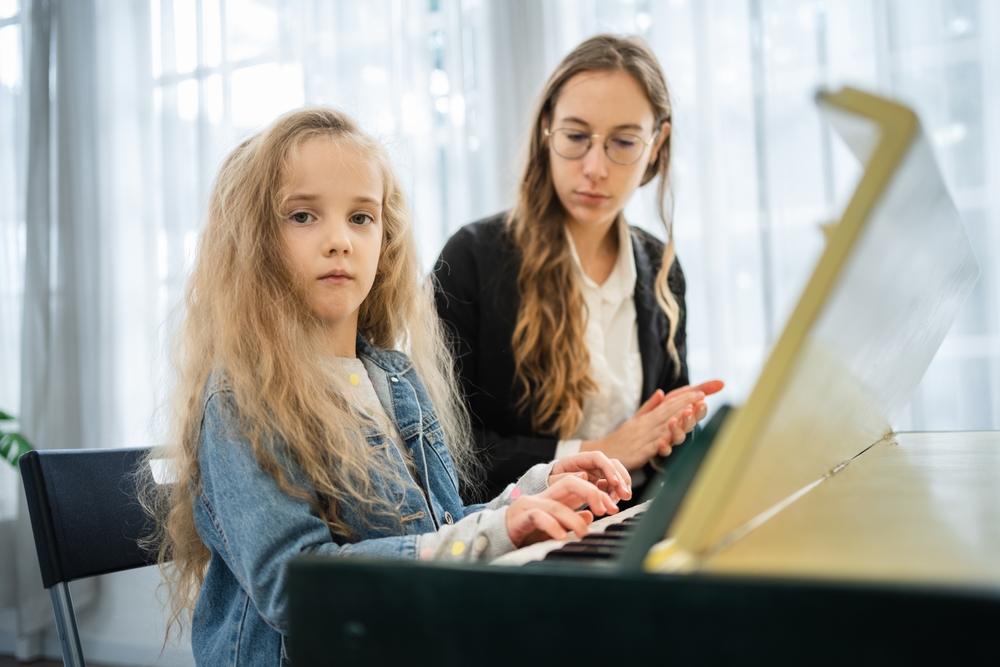 Embarking on the journey to become a piano teacher independently opens a path where passion meets profession. Becoming a music teacher is not just about imparting knowledge but sharing the joy that music brings with others, an invaluable experience that resonates beyond just playing notes. 
Whether you're a piano enthusiast, a seasoned player, or a recent graduate with a degree in music, you might find that teaching piano can be your calling, offering a chance to inspire others while simultaneously solidifying your own skills.
Read on to know more about how to become a piano teacher, from obtaining the necessary qualifications to marketing yourself effectively.
1. Necessary Qualifications and Certifications
When diving into the realm of piano teaching, a frequent question that arises is, "Do I need a certification?" The straightforward answer is: not always. However, possessing a formal certification, like a degree in music or specialized courses, certainly elevates your credentials and attracts a wider pool of students.
A teaching certification provides assurance to potential students and their parents regarding the quality of education they will receive. Furthermore, it's worth considering additional certifications, such as a DBS check, which asserts that you have no criminal records, thus enhancing trust.
2. Gaining Job Experience
Gaining teaching experience is crucial to becoming a successful piano teacher. While pursuing a music degree or certification, take advantage of any opportunities to gain hands-on teaching experience.
Many universities offer pedagogy programs or community outreach programs where you can work with students under the guidance of experienced teachers. If you're not enrolled in a degree program, consider offering discounted lessons to friends, family members, or neighbors to gain practical teaching experience. This will not only help you develop your teaching skills but also make you more attractive to potential employers or students.
3. Setting Up Your Studio: Equipment & Preparation Needed
When starting your journey as a piano teacher, there are a few things to consider in terms of equipment and preparation. If you plan to teach from your own home, make sure you have a well-tuned and well-maintained piano. Consider investing in additional teaching materials such as a selection of books, sheet music, and teaching aids to enhance your lessons.
It's also important to establish a clear studio policy that includes cancellation policies, makeup lesson options, behavioral expectations, and payment and tuition terms. Having a solid scheduling system in place, such as using software apps, can help you manage your lessons efficiently.
4. Engaging with Professional Groups
Joining professional organizations and groups can be beneficial for both networking and professional development. Consider becoming a member of music teacher associations in your area or nationally recognized organizations such as the Music Teachers National Association (MTNA). These groups often provide resources, workshops, and conferences that can help you stay up-to-date with the latest teaching techniques and connect with other piano teachers.
Additionally, joining examination boards, such as the Associated Board of the Royal Schools of Music (ABRSM), can provide you with opportunities to assess your students' progress and offer them recognized certifications.
5. Marketing Yourself as a Piano Teacher
To attract students and build a successful piano teaching business, effective marketing is essential. Here are several ways you could start:
Word of mouth: Start by spreading the word about your services to friends, family, and local community members.
Local ad placements: Consider placing ads in local shops or community centers and create business cards to distribute to potential students.
Establishing online presence: Create a professional website where you can showcase your qualifications, teaching approach, and testimonials from satisfied students. Utilize social media platforms like Facebook, Instagram, and Twitter to promote your services and engage with potential students.
Using online music websites: Integrating your services with online music websites, like Lessons in Your Home, also extends your reach to potential students who prefer a more convenient and personalized learning experience.
6. Commitment to Continuous Self-Improvement as a Piano Teacher
It's quite common for piano and other music teachers to forget about the ongoing journey of learning and getting better. With fresh techniques and philosophies popping up continually, it's vital to stay in the loop. By jumping into workshops, online courses, and perhaps chasing further degrees or certifications, you're not just polishing your skills but also ensuring your teaching style stays relevant and top-notch.
Let's not forget about the importance of checking in with yourself, too. Asking your students and fellow teachers for feedback and maybe even becoming a student again yourself can open you to new ideas. Involving yourself in community events, concerts, or competitions doesn't only sharpen your skills but is also a fantastic way to meet other like-minded professionals. Remember, always learning and evolving isn't just helpful; it's key to keeping your piano teaching practice lively, competitive, and high-quality.
Kickstart Your Piano Teaching Journey with Lessons in Your Home
Stepping into the world of independent piano teaching means blending your deep love for music with the desire to share it. While the journey may have its challenges, think of the profound impact you'll make on budding musicians. And here's the reassuring bit: you don't have to navigate this journey solo.
At Lessons in Your Home, we're more than just a platform; we're your extended support system. We bridge eager students seeking top-tier, home-based or virtual music lessons with dedicated teachers like you. Explore teaching opportunities with us and become a part of a community that values and fosters your passion for teaching.
Contact us today for more information! Let's create beautiful music together, shaping the future of aspiring pianists one note at a time.