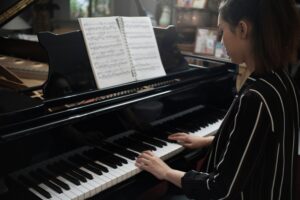 In all of my lessons, my students and I work through method books based on their current skill level. Method books are great because they provide immediate structure in a lesson, and turning the page after successfully completing a part of the book is just so satisfying for students (and, admittedly, myself as well). Depending on which series of books you and your student use in their piano lessons in Seattle, they are likely learning a lot about piano playing technique, how to play music, music theory, and performance-grade songs. I am here to guide you through my three personal favorite piano method series books and why they are so great.
Note: these descriptions are not comprehensive; they are just my own personal opinions about each publisher's take on piano methodology!

Faber and Faber:
The most frequently piano method books used are the Faber and Faber books. Faber and Faber have books designed for students as young as 5 years old and books designed for beginner adult students as well.
For younger students, they introduce fun characters to guide them through learning piano concepts, such as note recognition, reading rhythms, intervals, and much more. Faber and Faber, very cleverly, keep the same hand positioning for most of the beginning of their method. This hand position that gets used frequently acts as a sort of blank page of a notebook, as it helps early beginner students learn different topics while keeping this one element of their playing consistent. Remember science class?
Think of this as an "experimental control." The books are generally separated into four categories per level, which also comes in an edition of all four books combined for adult students:
Lesson: the main learning book, it ties together new concepts as related to playing the piano
Theory: learning the language of music
Technique and Artistry: guiding students through proper key press technique, hand shape, and other related topics
Performance: music meant to be performed at recitals or other performances
Alfred:
The second most used piano books are likely the ones published by Alfred. These books are very useful and engaging for many of the same reasons that Faber and Faber's books are. The information is organized differently, but its overall objectives are the same.
One of the notable differences between the two book series is that Alfred's books have students use different hand positions sooner. This shows the student how to be flexible in how they look at piano music. Alfred's books leverage this style of teaching into showing students how to recognize notes in relation to the notes around them, not solely based off of their note names. While presenting more distinct hand positions may be slightly more challenging for some at first, learning the concept of finding notes in this way is especially useful for a pianist.
As a Seattle piano teacher, my students always find greater success once they have a better feeling for the notes all across the piano keyboard, not just the notes in one or two spots. I would not necessarily call this an advantage over Faber's books per se, as this is more of a difference in approach and not overall content quality or breadth.
Bastien:
These books are similar to Faber and Faber's method, in that the series has four different books that encompass the overall course of each level. As with the first two options, these books also cover just about everything a pianist will need to know. Albeit, in a different way. These books tend to be praised for the pacing of their content. They're not so slow that a student feels frustrated by a lack of progress, but they do move at a pace where your student can feel confident in every topic they cover.
Depending on how your student learns best, you may feel one of these books is a better choice over the others. This is a good thing! Either way, Lessons In Your Home instructors are well equipped to suggest the best possible method books for your student for their piano lessons in Seattle.
Contact us today to find out more about our teachers! They come right to your home for every lesson, plus we offer virtual music lessons, too. Our online music lessons are taught by local music teachers with live lessons tailored to your child!
By Brian Schappals