Ukulele Lessons In the Comfort of Your Home
No fighting traffic, we come to you!
Lessons offered 9am-9pm, 7 days a week
Experienced, knowledgeable, passionate teachers
Lessons for all ages and skill levels
30-60 minutes sessions
Your availability is our priority
Free recitals
You know it's time to get the children started with in-home private music lessons. Maybe the lessons are for you, how about the whole family? You're smart enough to know that music lessons are important but what about finding a teacher? Do you call a music store? Will their teacher be right for you? Then there's the getting there; the traffic, hauling the kids back and forth, what about dinner? Yeah – Right! Like that's going to happen. You don't need lessons with just any ol' teacher, especially a task master, intimidating, practice demanding monster that bores students. What you're looking for is an engaged, fun, well-educated, motivational, big smiling and super excited personality that loves teaching Music. A teacher who makes lessons fun. You already know what you need. You need Lessons in Your Home-the music teachers who come to your home or school to teach fun, private music lessons. Their teachers constantly think of great ways to motivate every student. They turn students into dazzling musicians ready to break out a song and share their talents with the world. Now you're saying "Hey, this could work" Lessons in your Home teaches piano, guitar, voice, violin, in fact they teach every music instrument you could think of. Getting started is as easy as 1,2,3.

Give Lessons in your home a call or email
They'll ask important questions about each student ensuring a teacher that's best for you
Schedule and start your lessons. What are you waiting for? Start Lessons now with Lessons in Your Home!
Find Ukulele Lessons With Our Private Ukulele Teachers
From learning basic chords to practicing comfortable strumming, your private teacher will teach you everything you need to be a successful ukulele player. Lessons In Your Home offers private lessons with world-class ukulele teachers who are passionate about the instrument and learning to make music. Our ukulele teachers are the best in the business and will come right to your home. We are passionate about teaching ukulele lessons and making learning the ukulele fun. Our key to success is ensuring the best student/teacher relationship.
When you call Lessons In Your Home…

After answering any questions you might have, we'll pair you with a local teacher that best matches your age, schedule, skill level, and goals.

… and then we'll schedule your first month of lessons!
First Lesson Guarantee — If you don't LOVE your first lesson we can pair you with a teacher that better fits your situation. Or you can even cancel and pay us nothing.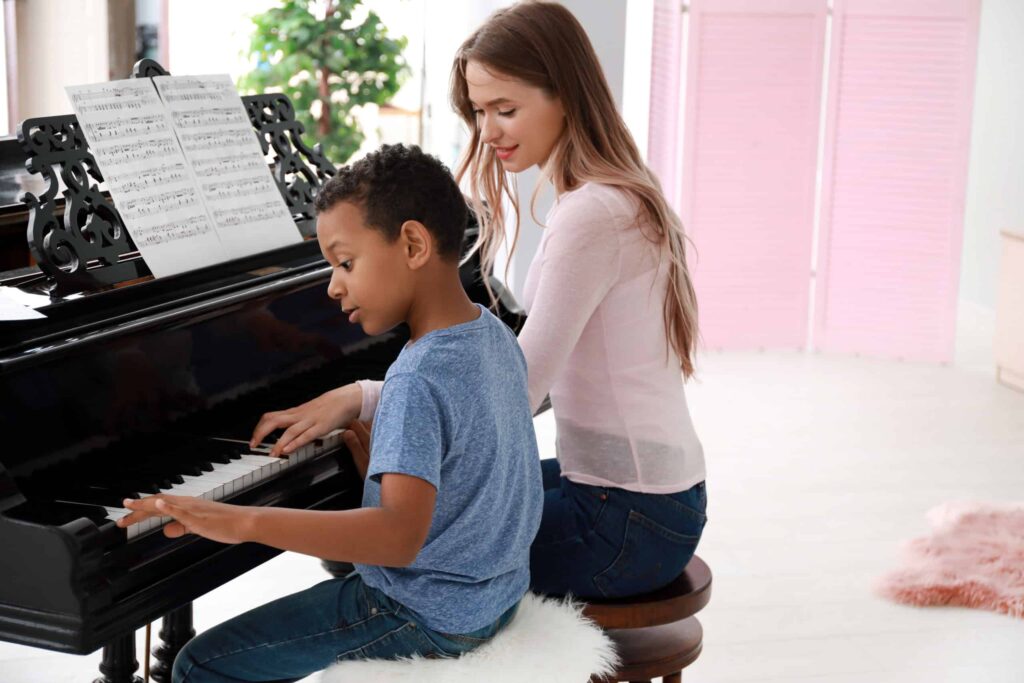 What Families Say About Us
Take Private Ukulele Music Lessons in Your Home Today
Have you always wanted to learn how to play an instrument but never knew which one to pick? While the guitar is a popular instrument to learn, you might be more interested in a small and portable string instrument like the ukulele instead! The ukulele is a great instrument to start with because it is a surprisingly easy instrument to pick up! With just a few ukulele lessons, you will get started on playing simple tunes to be proud of. Get started today with ukulele music lessons in your very own home!
The Benefits of Learning Ukulele at Home
The ukulele is a very easy instrument to play! If you are learning to play an instrument for the first time, you might consider the ukulele as a gateway to other stringed instruments as well. If you already know how to play other instruments, then you might find the ukulele is even easier to pick up than you thought. Learning to play the ukulele at home makes for a great opportunity to learn a fun, portable, and easy instrument. You will start to see growth and improvement right away as you begin your musical journey with the ukulele.
Along with the ease of getting started on the ukulele, you will also learn how to read music notes and understand basic chords. Unlike other stringed instruments, the ukulele features easy-to-grasp chords that you can pick up quickly. When you play the ukulele, you will learn about the different strumming patterns and how they enhance the beauty of various songs. With ukulele music lessons in your home, you can learn to play your favorite songs to play for family and friends. The ukulele is a great instrument for entertainment at social gatherings, and you can learn to improvise and jam away with other folks and their instruments.
What Makes Learning the Ukulele Fun?
The ukulele is a Hawaiian instrument that looks like a miniature guitar. Sometimes nicknamed the "Uke," the ukulele has four strings compared to the six strings on a guitar. Because the ukulele is easy to learn, you might find it more fun and rewarding. The ukulele is considered a social instrument and is a great addition to parties and celebrations with friends, thanks to its portability. Additionally, the uke is enjoying a renaissance in the last few decades as more people flock to this friendly and fun instrument. While some instruments can be intimidating, the ukulele is accessible to everyone, including young and old, musician and non-musician. The ukulele also makes a delightful, happy tone that attracts a wide audience.
What Will You Learn from Ukulele Lessons with Lessons In Your Home?
Lessons In Your Home offers ukulele music lessons where you will learn all about how to play the ukulele. Your private instructor will teach you about the instrument itself, how it works, and how to tune it. Your musical journey will include how to hold your ukulele and get started on good habits that will serve you well going forward. You will also learn basic chords and how to read music notes and tabs. Your ukulele lessons will include how to practice various strumming techniques that make distinct and beautiful sounds. Concepts like melody, harmony, rhythm, and style will help you improve your ukulele skills as you learn how to make music with the ukulele.
Learn to Play Ukulele Today
Most parents know that music can enrich a child's life. One of the regrets many parents have is not learning to play an instrument. Lessons in Your Home specializes in private in-home (or school) ukulele lessons for kids. While we do have many adult learners, the vast majority of our students are kids. We cater to all ages as young as kindergarten.
If you are searching for "ukulele lessons near me", you can find teachers near you in the cities listed below. Online music lessons allow even greater flexibility with busy schedules. We love teaching ukulele lessons for kids and adults.
Ukulele Lessons FAQs
You might want to get started with an inexpensive ukulele and then upgrade once you are sure you love it! With so many different styles of ukulele, you may find that one design interests you more than others. In order to become a successful musician, you will want to have a ukulele at home so you can continue to practice and enjoy making music in between your private music lessons. Our teachers can help you with finding the right ukulele.
Your first private lesson for the ukulele will include learning about the instrument itself. Understanding how the instrument works and how you hold and play the ukulele will help you have a strong foundation for when you start making sounds. Your private instructor will also show you the basics of how to read music for the ukulele and even get you started on practicing common chords on your ukulele.
Thanks to Lessons In Your Home, you don't have to worry about leaving something behind because your instructor comes to you. Our instructors also bring helpful accessories to enhance your ukulele music lessons, including music sheets for you to practice.
Absolutely! Some people who are left-handed choose to learn how to play the ukulele as if they were right-handed, while other people may choose to learn both ways so you can easily swap. Your private instructor can show you how to play your ukulele if you are left-handed and how to tune your instrument appropriately.
Just like with any instrument, learning to play the ukulele is a life-long experience. The more you practice and play, the better you will improve, and the more rewarding the experience will be. Our private instructors typically recommend you spend time with your instrument each day to keep forming good habits and improving.
You can purchase a ukulele for a relatively low price in your area or online, or you can talk with a music teacher or music store about renting one for a period of time.
There are five main sizes of ukulele: soprano, concert, tenor, baritone, and bass. The soprano ukulele is the standard size and a great option for beginners. If you are interested in exploring other sizes of ukulele, your private instructor can recommend what might work best for you.
While it is possible to learn an instrument online, we recommend private lessons in your home for a personalized experience. With Lessons in Your Home, our private instructors come to your house and take a hands-on approach to help you learn how to play the ukulele. We do however offer online music lessons if that better suits you!
All Popular Instrument Lessons:
We have experienced local teachers for any instrument you can think of