Dallas Guitar Lessons In The Comfort Of Your Home
No fighting traffic, we come to you!
Lessons offered 9am-9pm, 7 days a week
Experienced, knowledgeable, passionate teachers
Lessons for all ages and skill levels
30-60 minutes sessions
Your availability is our priority
Free recitals
You know it's time to get the children started with in-home private music lessons. Maybe the lessons are for you, how about the whole family? You're smart enough to know that music lessons are important but what about finding a teacher? Do you call a music store? Will their teacher be right for you? Then there's the getting there; the traffic, hauling the kids back and forth, what about dinner? Yeah – Right! Like that's going to happen. You don't need lessons with just any ol' teacher, especially a task master, intimidating, practice demanding monster that bores students. What you're looking for is an engaged, fun, well-educated, motivational, big smiling and super excited personality that loves teaching Music. A teacher who makes lessons fun. You already know what you need. You need Lessons in Your Home-the music teachers who come to your home or school to teach fun, private music lessons. Their teachers constantly think of great ways to motivate every student. They turn students into dazzling musicians ready to break out a song and share their talents with the world. Now you're saying "Hey, this could work" Lessons in your Home teaches piano, guitar, voice, violin, in fact they teach every music instrument you could think of. Getting started is as easy as 1,2,3.

Give Lessons in your home a call or email
They'll ask important questions about each student ensuring a teacher that's best for you
Schedule and start your lessons. What are you waiting for? Start Lessons now with Lessons in Your Home!
Get started today with private guitar lessons in the comfort of your own home, available for aspiring musicians of all ages. Enjoy a convenient and personalized learning experience with Lessons In Your Home, where we pair you with a world-class instructor in Dallas. With a skilled instructor coming to your home, you can enjoy the benefits of one-on-one instruction tailored to your child's specific goals and learning style. Whether your child is a beginner seeking a solid foundation or an advanced player aiming to refine their skills, guitar lessons with Lessons In Your Home provide a comfortable and focused environment for your family where your child can learn and grow at their own pace. Say goodbye to the hassle of commuting and embrace the joy of making music in the familiar surroundings of your home with guitar lessons in Dallas.
Get Private Guitar Lessons Across Dallas with Our World-Class Guitar Teachers
With private guitar lessons in your home, you or your child receive dedicated one-on-one attention from a world-class instructor. Teachers with Lessons In Your Home develop a personalized approach that allows them to understand your child's specific needs, tailor the lessons accordingly, and provide immediate feedback and guidance. Your family's guitar teacher can address any challenges or questions more effectively, which can also result in faster progress. A private instructor coming to your home can create customized lesson plans and adapt their curriculum, repertoire, and teaching methods to align with individual preferences to enhance the overall learning experience.
When you call Lessons In Your Home…

After answering any questions you might have, we'll pair you with a local teacher that best matches your age, schedule, skill level, and goals.

… and then we'll schedule your first month of lessons!
First Lesson Guarantee — If you don't LOVE your first lesson we can pair you with a teacher that better fits your situation. Or you can even cancel and pay us nothing.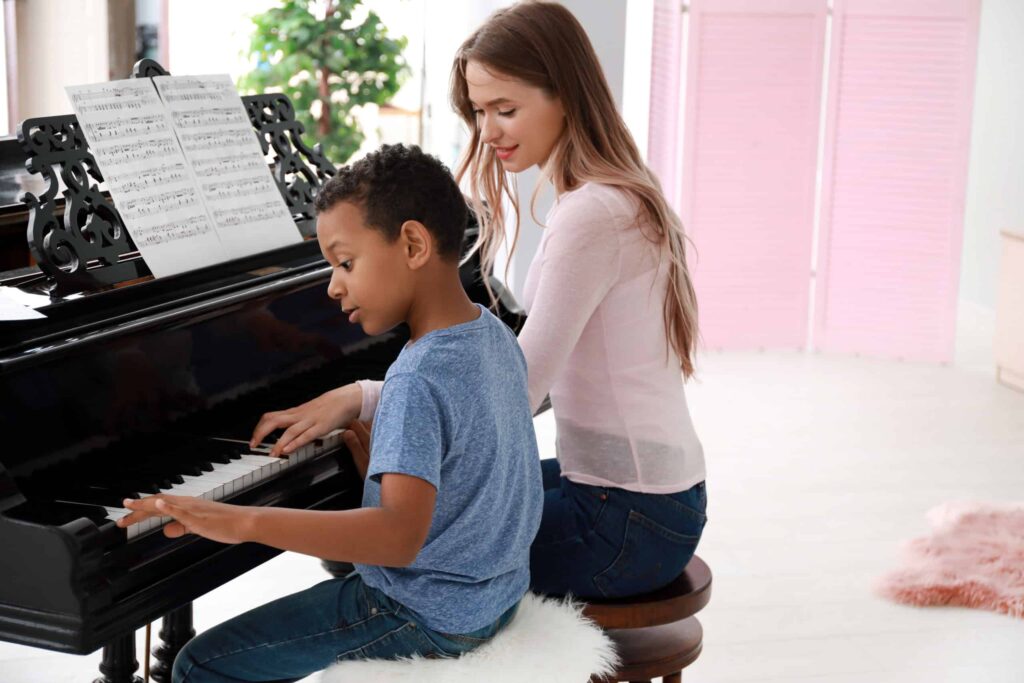 What Families Say About Us
Ready to Learn the Guitar? We Love Helping Kids Learn!
When your child begins to show genuine interest and enthusiasm for the guitar, this is often a sign that they are ready for lessons! Look for signs such as expressing a desire to learn, showing curiosity about the instrument, or showing interest in music in general. People of all ages can learn how to play the guitar, and children can begin as early as age 5. Learning an instrument requires concentration and focus, so consider your child's attention span and ability to stay engaged in activities. While it's normal for young children to have shorter attention spans, a certain level of focus is necessary to effectively learn the guitar. Learning an instrument also requires dedication and practice. As your child grows, guitar lessons and creative music exploration can support their development.
Benefits Of Our Dallas Guitar Lessons
Lessons In Your Home connects you with Dallas music teachers who offer guitar lessons when and where works best for your family. By having an instructor come to your home, you eliminate the time and potential distractions associated with commuting or navigating your busy schedule. Lessons In Your Home helps maximize the lesson time and even helps ensure a focused and uninterrupted learning experience. A private guitar teacher can focus entirely on you or your child's progress without any distractions. They can track your development closely, identify areas for improvement, and provide personalized exercises and practice routines to accelerate growth and skills at playing the guitar.
We Come To Your Home In Dallas
One of the biggest benefits of private guitar lessons with Lessons In Your Home is the convenience of having the instructor work within your family's schedule and meet you at home. You don't have to worry about commuting to a music school or finding parking. Private guitar lessons in your home save time and effort because at Lessons In Your Home, we understand that your family has a busy schedule. Your child can reap the benefits of private guitar lessons from the comfort of their own home with a local Dallas teacher. No matter one's age or skill level, guitar lessons in a familiar space can help alleviate any performance anxiety or discomfort, which can ultimately foster increased focus and engagement during the lessons.
What Makes Lessons In Your Home the Best Choice for Dallas Guitar Lessons?
Overall, having a private guitar instructor come to your home for lessons provides convenience, personalized attention, a comfortable learning environment, and flexibility in scheduling. Lessons In Your Home aims to enhance the learning experience for both you and your child by making the journey of learning the guitar more enjoyable and rewarding. Whether your family has specific musical interests or your child is looking to supplement their band or orchestra skills, a private guitar teacher can incorporate their preferred genres and songs into the lessons, making the learning experience more relevant and exciting.
Frequently Asked Questions about Dallas Guitar Lessons
Yes, Lessons In Your Home will pair you with a private guitar teacher in Dallas and neighboring cities, including Arlington, Fort Worth, Frisco, Plano, and University Park.
The cost of private guitar lessons with Lessons In Your Home will depend on the length of your music lessons, how frequently they occur, and other factors. Contact us today to find out more about what to expect with the cost of Dallas guitar lessons.
Lessons In Your Home also offers music classes and private instruction after school, including general music classes, band, orchestra, chorus, and more. Learn more about our Music in Your School program.
Our teachers at Lessons In Your Home will work with you to schedule private lessons at a time that works best for your family. We offer lessons in your home, as well as online and virtual guitar lessons.
Lessons In Your Home does not require recitals, though our private instructors are happy to help you prepare for any future performances and will support you every step of the way!
In addition to private guitar lessons in your home or online, we also have partnerships with local schools through our Music in Your School program.
All Popular Instrument Lessons:
We have experienced local teachers for any instrument you can think of
Lessons In Your Home Dallas, TX Neighborhoods We Serve
Our National Locations