"15 Minutes can save you…" Wait, this isn't an insurance commercial, it's an article about 15 minute music lessons. We call them 15-minute add-ons, and both teachers and families really love them.
What 15 Minutes Can Mean To Music Lessons
There are 3 ways to incorporate an additional 15-minutes to your existing lessons. The first one is to simply increase your 30-minute lesson to a 45-minute lesson, or your 45-minute lesson to a 60-minute lesson. The second is to add an additional 15 minute specialized area of study for your existing lesson. The most common options are voice, theory, or piano, but there are many other choices. The third is to start your preschool child on music lessons. We love introducing 3, 4, or 5 year olds who aren't yet in kindergarten to music.
Little Music Makers — 15 Minute Music Lessons for your 3, 4, or 5 Year Old Child
We are often asked, "What's the best age to start music lessons?"   For the most part, we start new students at age 4, or sometimes 3, depending on the specific child.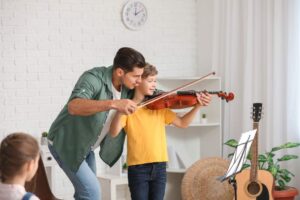 When we start your 3, 4, or Pre-k 5 year old out with a 15-minute lesson, we're fostering an early understanding and love music during the most heightened developmental time in a child's life.   Our Little Music Makers program  focuses on singing, movement, and play.   After starting with this fun "intro to music" class, young beginners will soon be ready to take private lessons.
Adding Voice, Theory, Or Piano To Your Existing Lessons
A great 15-minute option is to add a new and specific area of study to your existing lessons.    For example, piano students can learn voice; guitar students can have a focused theory class or saxophone students can learn piano.    With these 15-minute options, the sky's the limit, and we'd be happy to design a custom session just for you.
In short — 15 minutes to be exact — you can learn the fundamentals of another instrument or theory as an add-on to your current lessons. This is a very valuable tool for students of all ages, levels and abilities, because it helps them become a more well-rounded musician.
Extending Your Current Lesson By 15 Minutes!
The most traditional way 15 minutes can change your musical life is to simply increase the amount of time you spend in your lesson each week. This is probably the biggest advantage  students who want to go "above and beyond" can give themselves. Ask any private music lesson student, and they can tell you how valuable lesson time is — 15 additional minutes means more assisted practice, more details, and more time to digest an area of focus with your private music lesson instructor.
And over time, these 15 min blocks add up.  Think about a student who does 2 years of lessons at 45 minutes instead of 30…that's an extra year of lesson time completed.
15 Minutes Is A Win!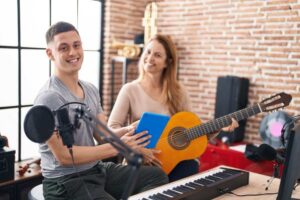 No matter how you look at it, 15 minutes more of music instruction in an amazing asset to your current lessons. Whether you're simply increasing your lesson time, adding a new area of study, or introducing an additional family member to music lessons, more time means more music. And like the famous quote from Friedrich Nietzsche says, "without music, life would be a mistake".