Music Lessons In The Comfort Of Your Home
No fighting traffic, we come to you!
Lessons offered 9am-9pm, 7 days a week
Experienced, knowledgeable, passionate teachers
Lessons for all ages and skill levels
30-60 minutes sessions
Your availability is our priority
Free recitals
Find bass Lessons In Rockville With Our Private bass Teachers
As professional bass players, our teachers enjoy rich musical careers as performers and educators. Each of our teachers are advanced in string bass and electric bass – and many also are experts in guitar and piano. They all have received in music performance from notable colleges such as Being located in Washington DC and Northern Virginia, our teachers have access to some of the country's best venues and festivals, including the British Embassy, the DC Jazz Festival, and the Lincoln Center in New York City. Additionally, our bass teachers excel in composition and have published arrangements of pop, rock, and classical pieces that have been orchestrated for the solo bassist. Whether you aspire to learn upright classical bass, jazz or rock electric bass, our bass teachers are more than equipped to assist you!
When you call Lessons In Your Home…

After answering any questions you might have, we'll pair you with a local teacher that best matches your age, schedule, skill level, and goals.

… and then we'll schedule your first month of lessons!
First Lesson Guarantee — If you don't LOVE your first lesson we can pair you with a teacher that better fits your situation. Or you can even cancel and pay us nothing.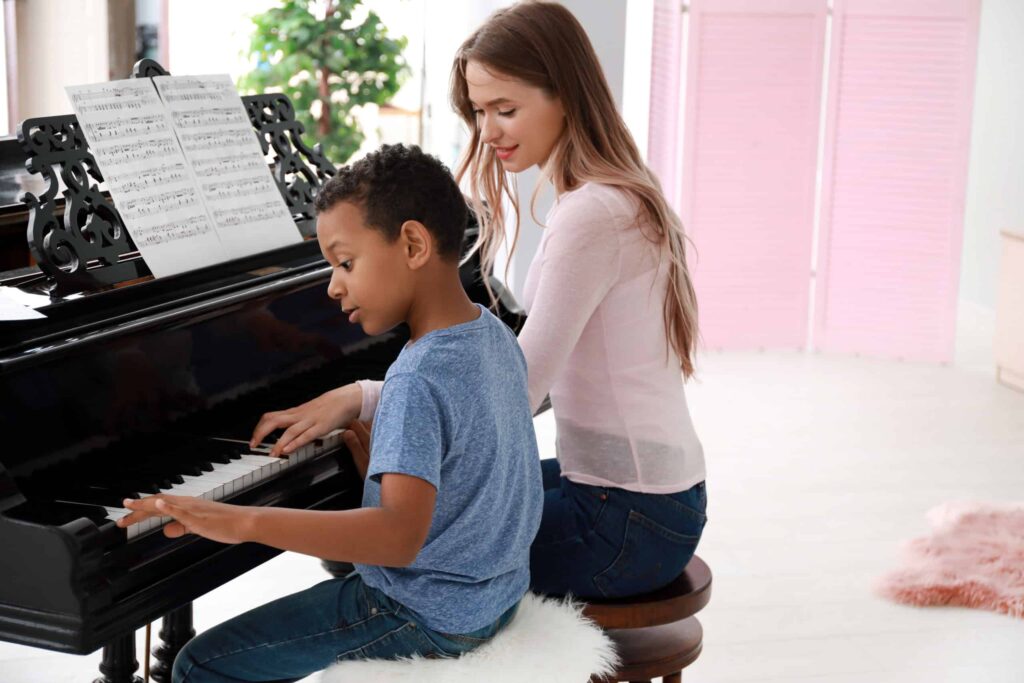 What Families Say About Us
Rockville bass Lessons For Kids
Many children do not get introduced to bass instruments until late elementary or early middle school. However, with Lessons In Your Home, your child can get a head start on their music education and will go into their school band class with confidence! In their lessons, our teachers utilize method books written by publishers such as Faber and Alfred. The layout of these books are concise, informative, and kid friendly! But never fear, these books are utilized strictly as supplements to your child's learning. Our teachers provide personalized bass lessons to meet the needs of your child specifically, tailoring each lesson to maximize your child's learning and enjoyment! In addition to method books, your child will experience music games, discussions about music theory, and other subjects which are crucial to a well rounded music education.
Getting bass Lessons Near You
With our newly updated website, signing up for music lessons is a quick and easy process. After filling out the interest form, our Washington DC team will hand select one of our teachers and assign them to your student. Because we have a close knit musical family, we are familiar with each of our teachers' personalities and teaching style. This enables us to find the teacher which best fits your musical/educational needs and will develop a close relationship with your family. Once signed up, your music lessons will take place in your home – our teachers drive to you! Or, according to your preference, we offer virtual music lessons via Facetime, Google Meet, Skype, or Zoom! Lessons In Your Home is prepared to help you meet your musical goals and have fun along the way. Get started today!
All Popular Instrument Lessons:
We have experienced local teachers for any instrument you can think of