Music Lessons In The Comfort Of Your Home
No fighting traffic, we come to you!
Lessons offered 9am-9pm, 7 days a week
Experienced, knowledgeable, passionate teachers
Lessons for all ages and skill levels
30-60 minutes sessions
Your availability is our priority
Free recitals
Find ukulele Lessons In Miami/South Florida With Our Private ukulele Teachers
Lessons in Your Home's ukulele teachers here in Miami and across South Florida are a selection of our region's world-class pool of exemplary ukulele musicians and educators. Coming on board with a desire to make learning music a fun and enriching experience, our teachers are passionate about what they do. That passion is the fuel for engaging and dependable ukulele lessons.
Another foundation of our success is finding the perfect match between student and teacher. Our ukulele teachers work with students of all ages and experience levels. As talented members of a creative profession, we bring that creativity to our lessons to provide the ideal instruction tailored to every student we see whether we do private ukulele lessons in Miami or do virtual music lessons.
When you call Lessons In Your Home…

After answering any questions you might have, we'll pair you with a local teacher that best matches your age, schedule, skill level, and goals.

… and then we'll schedule your first month of lessons!
First Lesson Guarantee — If you don't LOVE your first lesson we can pair you with a teacher that better fits your situation. Or you can even cancel and pay us nothing.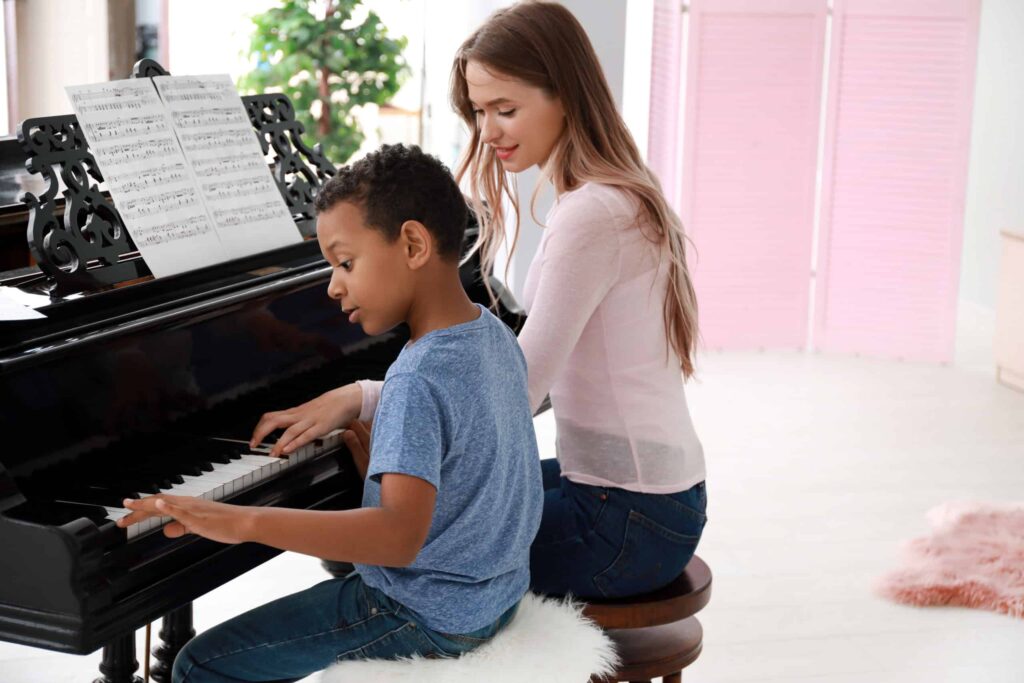 What Families Say About Us
Miami/South Florida ukulele Lessons For Kids
Here in Miami, the ukulele is a favorite for getting young kids playing an instrument. Its small size and soft strings are perfect for young hands. The concepts that a child will learn on a ukulele will transfer easily to other string instruments like the guitar, bass, and even violin. Beyond that, simply getting started on an instrument at a young age will prepare kids for learning musical instruments of all shapes and sizes down the line. In fact, many of our Lessons in Your Home ukulele teachers in Miami play multiple instruments themselves and are expertly equipped to prepare your child for a lifetime of musical expression.
While ukulele is often a first instrument for a young child who later takes up another instrument, it is exceptional in it's own right. Many adults take up the ukulele because it is an excellent instrument for accompanying yourself while singing. Beyond that, with a variety of advanced techniques to explore, the ukulele can be an engaging and challenging instrument for musicians of all levels.
Getting ukulele Lessons Near You
As one of our most active regions at Lessons in Your Home, South Florida is the perfect place to find a top-notch ukulele instructor. Once you take the first step by reaching out for more information, we will start working to pair you or your child with a world-class teacher. Whether you live in Davie or Kendall, Coral Gables or Sunny isles, we will find the teacher for you.
All Popular Instrument Lessons:
We have experienced local teachers for any instrument you can think of