Denver Piano Lessons In The Comfort Of Your Home
No fighting traffic, we come to you!
Lessons offered 9am-9pm, 7 days a week
Experienced, knowledgeable, passionate teachers
Lessons for all ages and skill levels
30-60 minutes sessions
Your availability is our priority
Free recitals
You know it's time to get the children started with in-home private music lessons. Maybe the lessons are for you, how about the whole family? You're smart enough to know that music lessons are important but what about finding a teacher? Do you call a music store? Will their teacher be right for you? Then there's the getting there; the traffic, hauling the kids back and forth, what about dinner? Yeah – Right! Like that's going to happen. You don't need lessons with just any ol' teacher, especially a task master, intimidating, practice demanding monster that bores students. What you're looking for is an engaged, fun, well-educated, motivational, big smiling and super excited personality that loves teaching Music. A teacher who makes lessons fun. You already know what you need. You need Lessons in Your Home-the music teachers who come to your home or school to teach fun, private music lessons. Their teachers constantly think of great ways to motivate every student. They turn students into dazzling musicians ready to break out a song and share their talents with the world. Now you're saying "Hey, this could work" Lessons in your Home teaches piano, guitar, voice, violin, in fact they teach every music instrument you could think of. Getting started is as easy as 1,2,3.

Give Lessons in your home a call or email
They'll ask important questions about each student ensuring a teacher that's best for you
Schedule and start your lessons. What are you waiting for? Start Lessons now with Lessons in Your Home!
Denver, CO Piano Lessons at Lessons In Your Home
Learn through personalized teaching with private Denver piano lessons in a setting and schedule that works best for your family! Piano lessons give your child a chance to receive specific feedback on their posture, technique, and performance. Lessons In Your Home will pair your family with a piano teacher who will work around your schedule, create a tailored plan based on your goals, and provide piano lessons in the comfort of your home right in Denver.
Get Private Piano Lessons in Denver, Colorado With Our World-Class Piano Teachers
The best Piano lesson teachers in the great state of Colorado are working with Lessons In Your Home. Our piano teachers hold music degrees from popular schools such as the University of Denver and Colorado State University. Many graduated with honors and other various accolades for their high level of professionalism on the piano. Sheer technical skill is not all that makes Lessons In Your Home piano teachers great; these Denver based pianists are some of the most versatile players in the world. From Beethoven to John Legend, they can play it all! Proficiency and personability are the two traits that separate our teachers from the rest.
All of the teachers at Lessons In Your Home have successfully completed a meticulous interview process that guarantees their instrument proficiency as well as their people skills. If you're looking for piano lesson teachers in Denver, Lessons In Your Home can help!
When you call Lessons In Your Home…

After answering any questions you might have, we'll pair you with a local teacher that best matches your age, schedule, skill level, and goals.

… and then we'll schedule your first month of lessons!
First Lesson Guarantee — If you don't LOVE your first lesson we can pair you with a teacher that better fits your situation. Or you can even cancel and pay us nothing.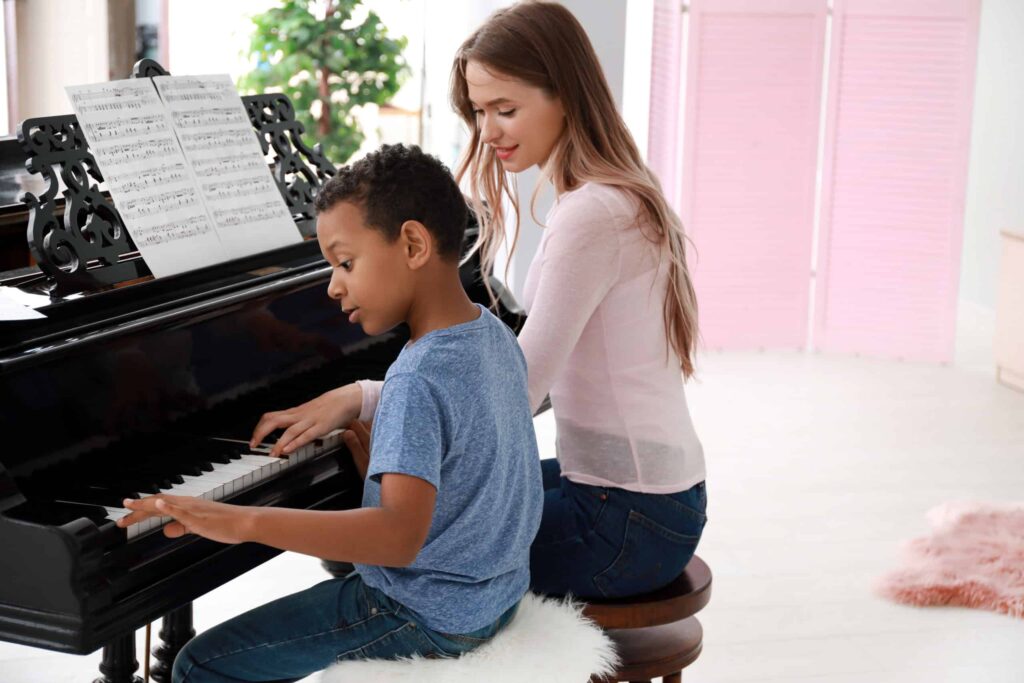 What Families Say About Us
Our Process with Piano Lessons in Denver
Beginners and experienced musicians alike will appreciate the tailor-made approach to private piano lessons with our skilled teachers. Lessons In Your Home offers Denver piano lessons for beginners with a fun and personalized approach to learning the piano. Little ones can benefit from private piano lessons in a variety of ways, including one-on-one attention which help grow their skills, increase their confidence, and learn how to make the piano a joy to learn. More advanced musicians will appreciate the opportunity for further growth and development as they explore advanced techniques and expand their repertoire in a comfortable environment.
What Makes Lessons In Your Home the Best Choice for Denver Piano Lessons?
Lessons In Your Home makes it easy to get started with private piano lessons by pairing you with a Denver piano teacher who will work with your schedule. Our teachers are flexible and offer private piano lessons in the comfort of your home or virtually to best suit your needs. Private piano lessons are a valuable resource for pianists of all ages and skill levels, with a personalized approach to helping musicians improve and reach new levels of proficiency.
Ready to Learn the Piano? Let's Get Started!
Our piano teachers with Lessons In Your Home will tailor the experience to best suit the age, experience, and learning style of each student. Personalized instruction and a tailored curriculum is valuable for children who want to learn how to play the piano and develop as a musician. Our piano teachers understand that children may have shorter attention spans than adults and will vary the pace and content of piano lessons to accommodate the learning styles of young pianists. From hands-on, playful approaches to learning to more structured and analytical approaches, piano teachers with Lessons In Your Home can design a personalized curriculum that works best for your family and personalities. Contact us today to get started with piano lessons right in Denver!
Frequently Asked Questions About Denver Piano Lessons
Yes, Lessons In Your Home offers private piano lessons in neighboring cities near Denver, including Aurora, Brighton, Broomfield, Castle Rock, Golden, Hudson, Lakewood, Westminster, and more.
Yes, Lessons In Your Home also offers Music In Your School with classes and programs designed for classrooms and after-school programs.
You can schedule 30-, 60-, and 90-minute private piano lessons with Lessons In Your Home.
Recitals are encouraged but not required! Recitals can be a great way to show off all that you have learned and share your musical journey with friends and family.
Lessons In Your Home offers both in-home and virtual private piano lessons. We also have a program called Music In Your School, with a range of classes and programs that can be offered during regular school hours or in an after-school environment.
Learning piano is for all ages, from kids to seniors alike! But when taking piano lessons, it is best to start at an age where children have adequately sized hands (can occupy at least 5 keys), sufficient motor skills to move their fingers independently, and an interest to learn. For some, the best age might be around 5 to 6, but others can start as early as 3, especially if they already know the first 7 letters of the alphabet!
Every great musician started with no musical ability, so no background is needed! Enrolling in piano lessons without prior musical knowledge is perfectly fine. We'll not only help get you started on the right foot, but more importantly, we'll also help encourage and sustain your child's desire to keep learning.
Yes and no! While an acoustic piano is best for practice, it is not a requirement. However, you need to have some kind of practice instrument. For beginners, a weighted electronic keyboard can suffice.
A few things to consider when buying a piano include the cost, your home's space, and how serious you are about taking piano lessons. Acoustic pianos tend to be more expensive and bigger, while digital keyboards are more light and compact and cost considerably less than acoustic pianos. For the beginning stages, you may opt for a good-quality keyboard. See our recommended digital keyboards. Once you progress in your lessons, learning on an acoustic piano is recommended.
Our Denver Piano Lessons Near You
All Popular Instrument Lessons:
We have experienced local teachers for any instrument you can think of