Baltimore Guitar Lessons in the Comfort of Your Home
No fighting traffic, we come to you!
Lessons offered 9am-9pm, 7 days a week
Experienced, knowledgeable, passionate teachers
Lessons for all ages and skill levels
30-60 minutes sessions
Your availability is our priority
Free recitals
You know it's time to get the children started with in-home private music lessons. Maybe the lessons are for you, how about the whole family? You're smart enough to know that music lessons are important but what about finding a teacher? Do you call a music store? Will their teacher be right for you? Then there's the getting there; the traffic, hauling the kids back and forth, what about dinner? Yeah – Right! Like that's going to happen. You don't need lessons with just any ol' teacher, especially a task master, intimidating, practice demanding monster that bores students. What you're looking for is an engaged, fun, well-educated, motivational, big smiling and super excited personality that loves teaching Music. A teacher who makes lessons fun. You already know what you need. You need Lessons in Your Home-the music teachers who come to your home or school to teach fun, private music lessons. Their teachers constantly think of great ways to motivate every student. They turn students into dazzling musicians ready to break out a song and share their talents with the world. Now you're saying "Hey, this could work" Lessons in your Home teaches piano, guitar, voice, violin, in fact they teach every music instrument you could think of. Getting started is as easy as 1,2,3.

Give Lessons in your home a call or email
They'll ask important questions about each student ensuring a teacher that's best for you
Schedule and start your lessons. What are you waiting for? Start Lessons now with Lessons in Your Home!
If your child is interested in learning guitar, Lessons In Your Home offers private guitar lessons in Baltimore, MD, with a personalized and effective learning experience. Private guitar lessons offer individualized attention and tailored instruction, ensuring that your child's needs and progress are the main focus. Our guitar lessons are customized to each student's skill level, interests, and goals, to create a motivating, encouraging, and engaging learning environment.
Get Private Guitar Lessons In Baltimore with Our Private Guitar Teachers
Lessons In Your Home makes it easy to find an instructor living in your area. We have guitar teachers living both in and around the city of Baltimore that are eager to help you learn how to play! From Hampton to Carney, Parkville to Perry Hall, and everywhere in between, Lessons In Your Home has teachers ready to start lessons right away. Looking for an even more convenient option? We also offer virtual lessons via Zoom or Skype!
Being able to work well with kids is a requirement for teachers at Lessons In Your Home. Most of our young students don't start guitar lessons until they're between 5 and 7 years old, but our Baltimore guitar teachers have experience teaching children as young as age 3. Lessons are tailored by teachers to be as fun as they are informative, thus ensuring that your child will not only get better at guitar – they'll also have a blast doing so! Making guitar lessons fun for kids makes them more effective. Lessons In Your Home teaches students as young as 5 who have performed in various recitals and at various venues around the greater Baltimore area, proving that age is only a number when it comes to learning music.
When you call Lessons In Your Home…

After answering any questions you might have, we'll pair you with a local teacher that best matches your age, schedule, skill level, and goals.

… and then we'll schedule your first month of lessons!
First Lesson Guarantee — If you don't LOVE your first lesson we can pair you with a teacher that better fits your situation. Or you can even cancel and pay us nothing.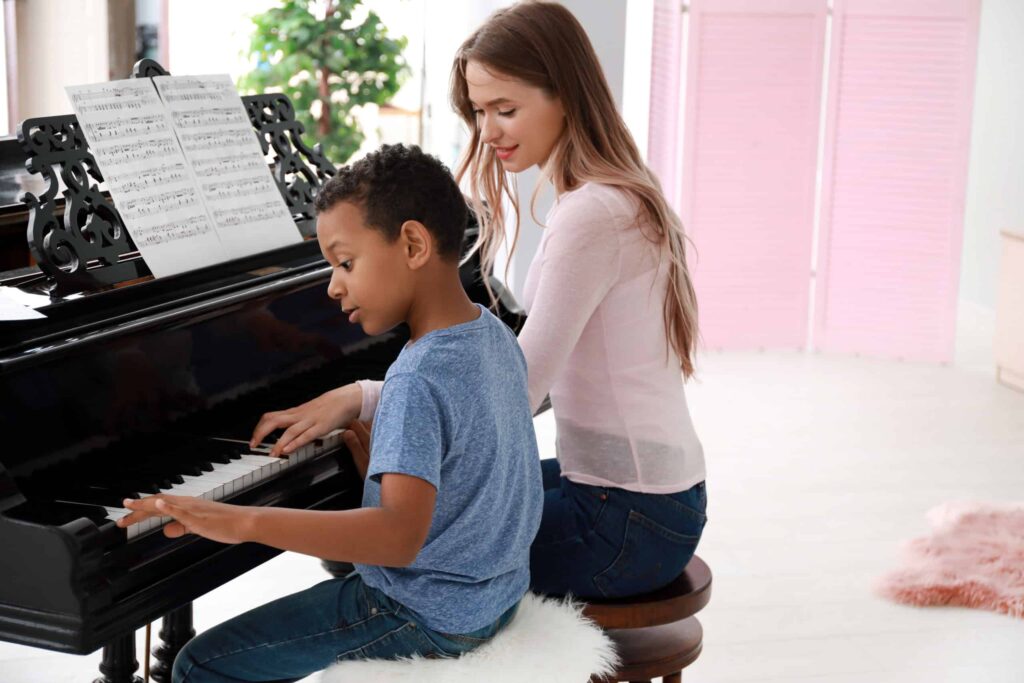 What Families Say About Us
What Makes Lessons In Your Home the Best Choice for Baltimore Guitar Lessons?
When considering private guitar lessons for your child in Baltimore, MD, working with Lessons In Your Home offers several advantages. First, our teachers come to your home, making lessons convenient and eliminating the need to worry about commuting or traffic. We understand the importance of working with your family's schedule and will find an available, stress-free slot in your calendar.
Second, we're pros at connecting and teaching younger kids! Kids need encouragement, engagement, and entertainment when learning an instrument. At Lessons In Your Home, we put the student first, providing a customized experience where students learn to stick with their instrument. This instills discipline, patience, and the importance of practice all while giving your child a new hobby and skill they'll cherish forever.
What To Expect When Joining Our Baltimore Guitar Lessons
Private lessons also offer additional guidance beyond just playing the guitar. Your child can ask questions and receive immediate feedback, gaining insights into music theory, songwriting, improvisation, and gear selection. Depending on their goals, our instructors may recommend school and performance opportunities that allow your child to gain confidence and showcase their progress.
Guitar Lesson FAQs
Yes, Lessons In Your Home will pair you with a private teacher in Baltimore and neighboring cities, including Aberdeen, Columbia, Towson, and Westminster.
Learn more about how Lessons In Your Home offers music classes and private instruction with Music In Your School.
The great thing about scheduling private guitar lessons with Lessons In Your Home is the flexibility of our instructors. We will meet you where you're at and at a time that best suits you.
Recitals are not required with Lessons In Your Home, though our instructors recommend recitals and performances as a way to demonstrate all your child or student has learned.
Lessons In Your Home offers private music lessons in person, online, and with various schools in the Baltimore area.
All Popular Instrument Lessons:
We have experienced local teachers for any instrument you can think of
Our Baltimore Music Lessons Near You