Violin Lessons In The Comfort Of Your Home
No fighting traffic, we come to you!
Lessons offered 9am-9pm, 7 days a week
Experienced, knowledgeable, passionate teachers
Lessons for all ages and skill levels
30-60 minutes sessions
Your availability is our priority
Free recitals
Providing Fun Violin Lessons For Kids In Metro Atlanta
At Lessons In Your Home, we pair you with an enthusiastic violin teacher that will come to your home and provide one on one, professional instruction. From Stockbridge to Alpharetta, Marietta to Douglasville, and OTP to ITP, Lessons In Your Home has fun violin teachers ready to start lessons with your kids! Our process is designed with your student in mind – we make lessons fun, engaging, and encouraging so they'll continue to progress in violin skills, performance ability, and more. Contact us today to get started!
Get Violin Lessons In Atlanta With Our World-Class Teachers
Learning to play the violin can be challenging, especially for beginners. Being in your own space can make you feel more comfortable and relaxed, which can help you focus better and learn faster. Choose Lessons In Your Home for quality, personalized violin lessons in Atlanta with a fully vetted and trusted teacher near you. All our teachers have knowledge and expertise with the violin and can help you progress faster and build confidence with the violin. Private violin lessons give your Atlanta teacher the opportunity to provide students individual attention and focus on your specific needs. Your Atlanta teacher can assess your strengths and weaknesses and tailor the lessons accordingly.
When you call Lessons In Your Home…

After answering any questions you might have, we'll pair you with a local teacher that best matches your age, schedule, skill level, and goals.

… and then we'll schedule your first month of lessons!
First Lesson Guarantee — If you don't LOVE your first lesson we can pair you with a teacher that better fits your situation. Or you can even cancel and pay us nothing.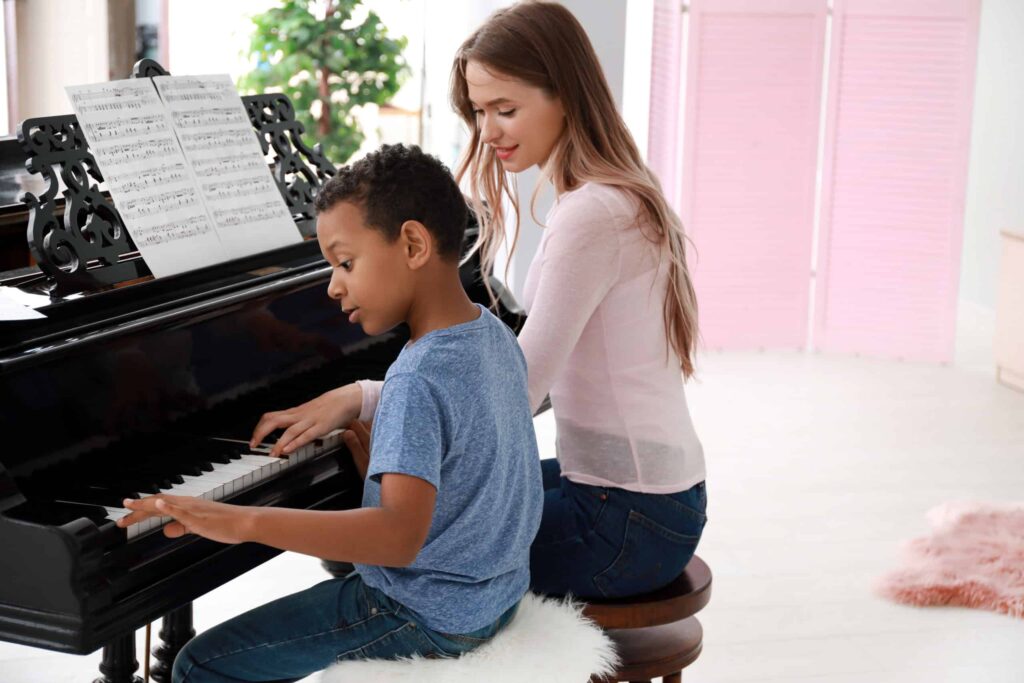 What Families Say About Us
Atlanta Violin Lessons in the Comfort of Your Home
One of the biggest advantages of violin lessons with us is having them in the convenience of your own home. You don't have to travel anywhere, worry about schedules, or sit in metro Atlanta traffic – We come to your home saving you time and hassle.
Our violin lessons at home allow your students and kids to get one-on-one attention from a local Atlanta teacher. One-on-one sessions allow your teacher to tailor the lessons to your student's individual needs and learning style, which can help them progress more quickly. Learning to play the violin can be intimidating, especially for children and beginners. But being in a familiar environment can actually help your student feel more at ease and confident, which can lead to improved progress and a more positive experience overall. With Lessons In Your Home, you have more flexibility in terms of scheduling. You can work with your Atlanta area teacher to find a time that works for both of you, which can be especially helpful if your family has a busy schedule!
Ready To Learn the Violin? All Kids Ages Are Welcome!
Atlanta violin lessons in your home can benefit players of all ages and skill levels in a variety of ways. With private lessons, the teacher can work at the student's pace, ensuring that your child is not left behind or pushed too quickly. Your teacher can also provide more challenging music as your student progresses as a musician, helping them improve their skills faster.
And as a beginner, playing in front of others can be intimidating! In private lessons, your kid can gradually build confidence and performance skills without the pressure of an audience. For more experienced players who want to tackle more challenging pieces, private lessons can help them do so and continue to develop their violin skills.
What Makes Lessons In Your Home the Best Choice for Kid's Atlanta Violin Lessons?
With Lessons In Your Home, you can enjoy personalized attention, convenience, flexibility, and a comfortable learning environment as your family develops into great musicians. Violin lessons in Atlanta with Lessons In Your Home help students progress more quickly and effectively while also staying motivated and engaged in learning the violin. Start lessons now with Lessons In Your Home and connect with a local Atlanta violin teacher near you today.
Frequently Asked Questions About Atlanta Violin Lessons
Yes, Lessons In Your Home will connect you with an Atlanta violin teacher near you who will come to your home or meet with you virtually. From Marietta to Decatur, inside and outside the perimeter, we have skilled teachers available to meet with you.
Yes, Lessons In Your Home also provides private music instruction with classes and programs, after-school, and preschool music education. Learn more about how Lessons In Your Home and our Music In Your School program on our website.
One of the best things about Lessons In Your Home is that you can find a time that works best for you! Our violin teachers will come to your home or meet you virtually seven days a week from 9 am to 9 pm.
We do not require recitals, though they are encouraged! We hope all our students feel comfortable and confident in sharing what they have learned with family and friends, and recitals are a great way to practice and improve performance.
We also offer private lessons in Atlanta for other instruments, including piano, guitar, voice, drums, and more.
Our Atlanta Music Lessons Near You
Our National Locations
All Popular Instrument Lessons:
We have experienced local teachers for any instrument you can think of